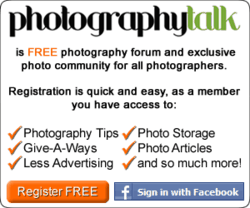 Sellers receive global exposure from the worldwide PhotographyTalk.com community
Santa Ana, CA (PRWEB) October 11, 2011
PhotographyTalk.com, a leading photography forum and social networking site, is now providing its members with a feature-loaded, low-cost classified section on its Web site to sell all types of photographic equipment. Sellers are not only able to list common items, such as camera bodies, lenses, various accessories and digital camcorders, but also darkroom apparatus, underwater photography gear, printers, scanners and software.
According to Alex Schult, president of PhotographyTalk.com, equipment sellers and buyers will discover many advantages when they register on the classified advertising section. It's very easy to use, with clearly listed equipment categories and ads and a complete search engine, with a "Browse by Thumbnails" tool and "Advanced Search."
Sellers receive global exposure from the worldwide PhotographyTalk.com community. Sellers can also enhance that exposure by adding photos and various style and placement upgrades. The "Featured Listing" option places a seller's ad at the top of all browse-listing pages. Sellers who use the "Better Placement" option will receive listing priority over other ads in that category. Buyers and sellers can communicate privately via the photography classified section's messaging system, eliminating the need to use e-mail. The messaging system also has a "Tell-a-Friend" link, so it's easy for buyers to alert photo buddies about listings that would interest them.
Sellers and buyers are not charged a fee to register with PhotographyTalk.com's classified section. A basic listing is $5.00 for 30 days, or $20.00 until the listed equipment sells. Photos can be added at $0.75 each, bold listings are $1.00 extra and a featured upgrade is $15. The "Pay per Listing" option is for individual sellers with just one or a few items to list, while the "Subscription Based" option is primarily for dealers. They can place an unlimited number of listings during their subscription period, according to the dealer-pricing schedule.
About PhotographyTalk.com – PhotographyTalk.com has quickly grown to become a prime resource where all photographers—beginners, intermediates and seasoned professionals—are able to share their passion and enjoyment for the art of photography. They communicate with fellow enthusiasts at the same ability level or with the same interest in a specific type of photography and help each other advance their skills and improve their photography.
Follow PhotographyTalk.com on http://www.facebook.com/PhotographyTalk or http://www.twitter.com/PhotographyTalk for free photography tips and articles.
###