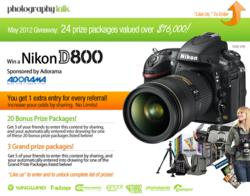 Our vendor partners have made the PhotographyTalk May 2012 Giveaway an amazing contest that I know every photographer will want to enter and invite his or her friends to enter too
Santa Ana, California (PRWEB UK) 3 May 2012
PhotographyTalk, one of the world's most popular online photography communities, is now accepting entries for its May 2012 Giveaway. For simply "liking" PhotographyTalk's Facebook page and referring friends to like it too, anyone will be eligible for more than $16,000 in digital photography prizes. The contest runs from May 1, 2012 through May 31, 2012. PhotographyTalk's vendor partner, Adorama, is providing the super grand prize of a new Nikon D800 DSLR Digital Camera (a $2,999.95 value). Adorama, located in New York City, is known throughout the world for its comprehensive inventory of photo and video equipment and electronics, its customer service and competitive pricing.
"Our vendor partners have made the PhotographyTalk May 2012 Giveaway an amazing contest that I know every photographer will want to enter and invite his or her friends to enter too," said Alex Schult, president of PhotographyTalk. "In addition to Adorama's contribution of a new Nikon D800, Vanguard, f-stop and Cotton Carrier are providing some of their finest products for the three grand prizes. Then, Topaz Labs, Photobacks, Spider Holsters, PhotoshopCafe, Vanguard and LowePro are offering combinations of prizes for our 20 Bonus Prize Packages."
Schult encourages everyone to visit http://www.Facebook.com/PhotographyTalk. Then, click on the "Win a Nikon D800 & More!!" page under PhotographyTalk's profile to complete the entry form. Anyone who refers a friend to enter the contest will receive an additional automatic entry for the Nikon camera. For every three friends referred, the referring party is entered for one of 20 Bonus Prize Packages. A person that convinces five friends to like PhotographyTalk's Facebook page will have his or her name added to the drawing for three grand prizes.
The three grand prizes consist of a Vanguard Auctus 323CT Tripod and BBH-200 Ball Head; an f-stop Guru Backpack with Medium ICU and a Millar Shibata Camera Bag and Lens Barrels; and a Cotton Carrier Wilderness 2 Camera Vest System. Each is valued at more than $1,200.
Vanguard, a global leader in high quality photo-video accessories, makes the Auctus 323CT Tripod, which supports as much as 40 lbs. (18kg) of equipment. Vanguard's BBH-200 Ball Head is designed with the Rapid Level System for quick and accurate leveling with the base.
The f-stop Guru Backpack is built for day photography trips and includes the medium size ICU, or Internal Camera Unit, of f-stop's series of internal storage system. The f-stop prize package also includes its Shibata shoulder camera bag from the Millar Series.
Cotton Carrier Camera Systems' Wilderness 2 Camera Vest is the third prize in the Grand Prize Package. The vest fits all sizes and allows a photographer to carry two cameras hands free. It is manufactured from 1680 Denier Polypropylene material and a camera body rests securely in a Lexan holder.
The 20 Bonus Prize Packages include 15 Topaz Labs Plug-In Bundles, Photobacks Premium Packages and Spider Holster Single Camera Systems; two PhotoshopCafe DVD bundles, with HDR & Photoshop, Photoshop CS5 and PhotoshopSecrets Photographic Effects; one Serif Bundle with PhotoPlus X5, WebPlus X5 and MoviePlus X5; one Vanguard Uprise 48 Camera Backpack; and one LowePro Pro Roller x200 Camera Bag.
Topaz Labs Plug-In Bundle helps amateur and professional photographers accomplish the most common creative and corrective post-processing tasks. Photobacks Premium Package consists of 385 Photoshop templates and digital backgrounds for portraits, weddings and high-school-senior clientele.
The Spider Holster System positions the photographer's camera on his or her hip securely and leaves the hands free. The LowePro Pro Roller x200 Camera Bag is airline-compatible and built with the features to keep photography equipment safe and secure.
Entries will be accepted for the PhotographyTalk May 2012 Giveaway from May 1, 2012 to 11:59 pm PST, May 31, 2012, at http://www.Facebook.com/PhotographyTalk. Winners will be announced on June 5, 2012.
About PhotographyTalk.com – PhotographyTalk promotes digital (and film) photography as a community-based activity for beginners, enthusiasts, hobbyists, serious amateurs and professional photographers who are passionate about creating their visions with the techniques and art of photography. PhotographyTalk is highly ranked among the leading photography forum Web sites with more than 146,000 Facebook fans and more than 226,000 Twitter followers.