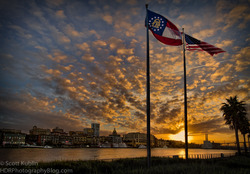 The reaction I had when I saw my first HDR Photo can be best described as the way I felt when I first saw a high-definition television channel.
Savannah, GA (PRWEB) March 15, 2011
When Scott Kublin first saw an HDR photograph just over 2 years ago, he was amazed at how incredible the detail of the photo was. He couldn't figure out exactly what made this photo look so incredible... he just knew there was something about the vibrance and color that was mesmerizing to him. Several days later, after a trip to a local bookstore and a bit of online research, Scott began to learn more about what would soon become his new passion.
"HDR", or "High Dynamic Range" Photography, is a style of photography in which you take multiple pictures of a scene, each at different exposure levels. Using a variety of software programs, you post-process the photos by extracting out the best details from each of the exposures to create a single photo that contains a high dynamic range of light and colors and details.
"The reaction I had when I saw my first HDR Photo can be best described as the way I felt when I first saw a high-definition television channel," said Scott. "Before seeing something broadcast in high-definition, I didn't think a television could get much clearer. That's the same way I felt about photographs too, until a friend of mine sent out a tweet which linked to an HDR photograph."
Scott wasn't a professional photographer when he first learned about HDR Photography. In fact, the camera he owned at the time he took some of his first HDR photos was an 8-year-old Canon Digital Rebel. As a Website Developer, Scott had purchased this camera for use when he needed to take pictures to be used on customer websites. "I really didn't know much about photography when I was working as a Website Developer," said Scott. "I primarily bought a digital camera so I could take pictures of client products that they wanted to promote online."
For the past two years, Scott has spent countless hours taking pictures and post-processing them to come up with some spectacular images. Because his Internet Marketing Company is an online business that can be run from virtually anywhere, Scott has been fortunate in that he's been able to travel quite extensively to capture photos from many different locations, including a recent trip to London, England.
Scott owes a lot of credit for what he's learned over the past two years to World-Renowned HDR Photographer, Trey Ratcliff, who owns and runs the number 1 Travel Photography Website at StuckInCustoms.com. "Trey's website features a free HDR tutorial that was extremely helpful for me when I first got interested in HDR Photography," said Scott. "It was so helpful for me, in fact, that I emailed Trey and offered to provide him with some free internet marketing consulting to show my gratitude for what I had learned from his tutorial."
Not only did Trey accept Scott's offer, but he valued the information so much, that he and Scott continued to consult each other back and forth on several more occasions. Scott stated, "I would provide him with an hour of consulting on how to make his website rank higher in the search engines, and then Trey would spend an hour helping me post-process some photos I had taken." Their ability to help one-another worked out so well, that they have since met and worked on several projects together and have many more projects planned to come.
And now that Scott has had a couple of years to work on his post-processing skills and is able to create his own beautiful works of art, he wants to help raise even more awareness for HDR Photography and teach others how to do it. Scott said, "I'm so thankful to have found such an incredibly fun hobby and want to be able to share this hobby with others who might not even realize how much fun Photography can be. With my experience in website design and internet marketing, I knew I could put together a site that reached a huge audience and be able to pass on to them what I had been fortunate enough to learn."
After several months of design and development, Scott has launched his new HDR Photography Website at HDRPhotographyBlog.com. As well as the posting of several photos per week, Scott's site also features a free HDR tutorial video. At over an hour long, this tutorial details step-by-step how he post-processes his photos.
Since Scott knows that the majority of people who visit his site are going to be either those who just want to view beautiful photographs, or those who also want to learn more about how some of the photographs were created, he decided to implement a feature on his site that he calls a "VIP Membership".
Scott states, "When you sign up to become a 'VIP Member', you'll have access to additional content that I've posted for some of the photos. This could include several other photos of the same scene, additional information on how I scouted out the location that I took the picture from, sharing some funny 'behind the scene' stories, or providing tips and techniques. I realize that some visitors just want to see my photos, but for those who also care to learn more about HDR Photography, they can become a 'VIP Member' by providing their name and email address. Almost immediately, this will unlock and reveal the additional content I've provided for them."
"I'm really excited about the launch of my new site and hope I'm able to reach out and help others create their own masterpieces," says Scott. "If I can do it, you can do it!"
# # #