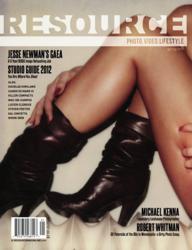 We want to keep giving our readers the very best in photographic editorial...
N.Y., New York (PRWEB) May 03, 2012
In today's publishing world, most magazines have seen a serious decline in page count—and that's especially true with photography publications. As the public moves toward online content, many magazines are experiencing their fair share of challenges in both maintaining their hard copy distribution and creating a multi-media online experience.
Not so at Resource Magazine, which, with its April issue, set a new record for the publication at 180 pages! Even more impressive is its completely new format for its online edition!
"We want to keep giving our readers the very best in photographic editorial in both the hard copy of the magazine and our digital edition with its added interactive capabilities," commented Alexandra Niki, co-founder and co-editor in chief.
Resource Magazine's growth over just the past two years has been phenomenal and the secret is partly in its timing. The magazine is published quarterly, along with the digital edition that goes online shortly after the print version becomes available. Add in the power of terrific content on the Resource Website and its sister video site, RETV, and you get the necessary ingredients to keep readers excited about photography. From the print edition to their online presence, there's an almost constant flow of new topics and information.
"Our constant presence and accessibility has been a key to our growth, but we're also working hard to develop outstanding editorial. It's not just about great content, but also about creating an interactive online environment for our readers," said Aurelie Jezequel, Resource's other co-founder.
What truly makes Resource different is the attitude of the team. It's a "buck-stops-here" approach as Niki, Jezequel and Adam Sherwin all work together to create a unique publication and maintain an unstoppable presence in the industry.
Both print and online Spring 2012 issues contain some exciting new features, such as Resource's first gatefold to showcase Jesse Newman's incredible photocomposition, The Rebirth of Gaea, a 6-year, 6,000 images tour de force. The issue also includes Resource's annual Studio Guide in which they list their favorite photo studios across the U.S., an in-depth interview with legendary landscape and fine art photographer Michael Kenna, and a photo essay by renowned photographer Robert Whitman.
Check out the new digital issue for yourself. It's filled with some remarkable content and gives visitors some exciting components for interactive reading!
About Resource Magazine
Resource Magazine is a photo and video quarterly publication based out of New York. Originally focused on photography, they quickly expanded to video when technology began to mesh the two worlds. The magazine is filled with inspiration, techniques, product reviews, photo essays and interviews with big name pros. Established professionals and aspiring image-makers alike can find something to inspire or inform them, and learn a new trick or two along the way.
Resource brings a fresh approach to the field of photo/video magazines, with a unique tone of voice and point of view. They talk to (and about) everyone involved on a shoot, from creatives working in advertising agencies, to studio staff, on-set crew and image-makers (be they photographers or videographers). Their articles are about the stuff that happens on (and off) set and the reality of working in this creative, fast-paced, and fun field.
For more information about Resource Magazine and RETV contact Aurelie Jezequel at Aurelie(at)resourcemagonline(dot)com.