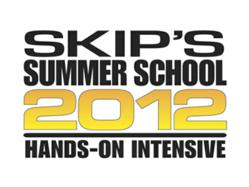 Sarasota, Florida (PRWEB) March 22, 2012
In May 2009 Skip Cohen had a vision of a new style educational program for professional photographers. Having spent most of his life in the photographic industry he felt there was a need for something mid-summer to help photographers focus on the importance of business, marketing and technique.
"All of the major shows and conventions are over by mid-April, but professional photographers, whether new or well-seasoned, need help staying focused on every aspect of their growing business. So, we created Skip's Summer School, a total immersion photography workshop, providing attendees with great content and a solid networking experience, all with a minimal time away from their business," commented Skip Cohen.
This year's program raises the bar again, setting a new standard in photographic education. The program, taking place outside Chicago, is August 5-8 and is called, "Hands-on Intensive". The request for hands-on shooting has been at the top of every feedback survey since the first Summer School.
Attendees will have the opportunity to shoot hands-on with their choice of two of seven different instructors. No program will exceed twenty people, giving each attendee a chance to get to know the instructor and receive the help they need in fine-tuning their skill-set.
This year's hands-on instructors are Clay Blackmore, Michele Celentano, Tony Corbell, Jerry Ghionis, Kevin Kubota, Bobbi Lane and Roberto Valenzuela. These programs will cover everything from bridal to commercial portraiture to family and children. Each instructor has a slightly different expertise.
Plus, there's a two day total immersion film-making program that's been added to this year's events. The program features Cinestories founders, Jeff Medford and Ross Hockrow. With the ability for still photographers to now easily add video to their skill-set, the program will focus on the key elements and techniques of storytelling, as well as help attendees with the skills they need to create their own video for their websites.
Great marketing programs are included in this year's venue with industry favorites Melissa Ghionis, Catherine Hall, Scott Bourne and Sal Cincotta. A new program this year is a couples panel featuring Bob and Dawn Davis, Kevin and Clare Kubota and Vicki and Jed Taufer.
"There are more couples working together in photography today than perhaps at any other time in history and it's not always easy. Vicki Taufer put it best, "It's difficult when the shoulder you want to cry on is attached to the neck you want to ring!" These three couples have been working together for years, but each of them has a completely different business model. We want to give couples working in photography new ideas on how to work as a team, but stay focused on the personal relationship as well," said Skip.
A new benefit to this year's program and Skip's focus on marketing includes a website review for each attendee prior to the August session. The website reveiws typically run an hour with primary focus on the photographer's "About" section and galleries.
This year's sponsors of Skip's Summer School are also a stellar group and thus far include, Adorama, Cameras for Kids Foundation, The F.I.L.M. Project, GhostRighters, Marathon Press, Nik Software, Photofocus,Profoto, Resource Magazine, RETV, SmugMugPro, SongFreedom, Tamron, WHCC, WPPI and X-rite.
In addition to two days of hands-on programming, the platform programs, a personalized website review and mini-trade show, the program includes two catered lunches with panel program discussions, a special $75 full registration to next year's WPPI show and an opportunity for each attendee to expand their network and become part of an incredible community.
The complete program schedule, descriptions and registration can be found at http://www.mei500.com.
About Skip's Summer School
Skip's Summer School is a part of Marketing Essentials International. MEI is a full service consulting company specializing in photographic education. MEI is also involved with the Akron Photo Series (a special fund-raiser for Akron Children's Hospital), GoingPro2011.com, GhostRighters.com and SkipsPhotoNetwork.com.
For more information contact Skip Cohen at skip(at)mei500(dot)com.