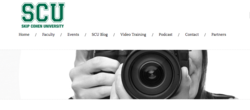 The SCU site is loaded with videos, podcasts, posts and information to help photographers raise the bar on their skill set!
Sarasota, Florida (PRWEB) April 24, 2013
Skip Cohen University, founded by past president of Rangefinder Magazine and WPPI (Wedding and Portrait Photographers International), is destined to be another life-changer for participating photographers, as it rolls into its fifth season.
"Every year we hear from attendees about something that happened during the summer conference. It might be about the growth of their network or something they learned during the program, but it's always referred to as "life-changing," commented Skip Cohen.
What makes programming at this event so different is the attention given to every attendee, often months in advance. This year's registration starts with a business review session with Cohen himself, an author and recognized leader in marketing for photographers. Last year he personally reviewed the websites of over 150 attendees in sessions that averaged 60-90 minutes each.
This year's star-studded faculty includes Joe McNally, Zach and Jody Gray, Michele Celentano, Adam Sherwin and Cohen himself for the all-school platform programs.
For hands-on education with no more than twenty students in each class, SCU will offer, a beginner's course for wedding photographers with their own Dean of Weddings, Clay Blackmore. Here's an opportunity for the beginning photographer to receive education from one of the very best wedding photographers in the world!
Blackmore's program is only the beginning as Michele Celentano, Dean of Students and recently published author, teaches hands-on family and children portraiture; Bob Coates, Fine Art and Personal Projects; Michael Corsentino and Bob and Dawn Davis head up the expertise on two different Lighting workshops.
Photographers with an intermediate skill level in wedding photography have their choice of some of the best in the industry as well, with Justin and Mary Marantz, Australia's Ryan Schembri, JP Elario and Roberto Valenzuela. This year's programming also includes a hands-on workshop with Jen Rozenbaum, considered one of the leading artists in Boudoir Photography.
But Cohen didn't stop there…
Zach and Jody Gray will be teaching a half-day business and marketing class in the morning with a scheduled mini-session with one of the industry's rising stars in the fashion world, Dixie Dixon. Then, rounding off the entire program is an intermediate two-day class in Photoshop with acclaimed instructor and photographer, Suzette Allen.
The complete schedule, program descriptions and explanation for the programs available for each attendee is available on the SCU website under the Event tab.
"There are some huge benefits to being part of these summer programs," said Cohen. "First, are the new skills and techniques each attendee has the opportunity to learn. Plus, there are no lines for any program and everybody ALWAYS has a seat. Second, the networking experience is amazing and everyone gets to know their instructors and the other photographers attending as well as many of the partners in the project. This group tends to work together, helping each other with a wide variety of challenges all year long. We all stay in touch!"
Another benefit to this year's program adds profitability for its attendees. Just announced is a $200 credit from Venice Album, one of the newest and soon to be leading U.S. players in Italian craftsmanship. Every registered attendee will receive a credit towards the purchase of any album order of $400 or more. As in past years, other partners will also be participating in various savings for this year's attendees, soon to be announced, with the latest information on the SCU website.
Partners in the SCU project represent some of the very best in imaging and educational support. To date they include Drobo, Manfrotto USA, Pansonic's LUMIX Team, ProfotoUSA, Resource Magazine, SmugMug, Tamron USA, Venice Album and X-Rite Photo.
This year's SCU Summer Session will be held at the Oakbrook Doubletree Hilton, just ten miles from Ohare Airport outside Chicago. Everything starts late Sunday afternoon, August 11 through Wednesday, August 14 at noon, allowing attendees to maximize the educational experience and still be back at their business mid-week.
About SCU
Photo industry executive, Skip Cohen, wanted to find a way to provide aspiring and professional photographers with a way to "recharge their battery" mid-year. He founded SCU to give them the support they needed to build a stronger business model. SCU offers a live program in August with two shorter programs in March and October along with hundreds of posts, podcasts and videos every day on the website and blog.
His philosophy is explained in more detail in a video produced by video production leader, RHED Pixel and Rich Harrington, SCU's Dean of Video/Fusion on the site's home page.
There's a common theme throughout the video, the site and the various programs:
"We want to help photographers THRIVE not just survive!"
For more information about Skip Cohen University visit SkipCohenUniversity.com or contact Skip Cohen directly at skip(at)mei500(dot)com.