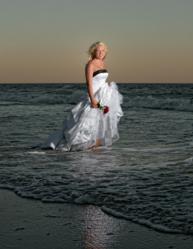 I fell in love with your eyes from the first look! And by just remembering those two sparkling stars, a strange feeling invades my heart... and my eyes sparkle too!!!
Loris, South Carolina (PRWEB) January 30, 2013
Myrtle Beach is a beautiful location for a Beach Wedding. With clean and expansive beaches, mild weather and of course a magnificent ocean, romance amidst a beautiful setting brings many couples to this area.
Couples exchange vows on the beach or fully gowned brides jump into the ocean… wait, jump into the ocean?
CMMS Studio being at the forefront of Beach Wedding photography since 2006 has seen wedding traditions change with the times. During this time, they have been privileged to capture some very unique images. They have offered their creativity to brides who have chosen to change traditions such as preserving their wedding dress a thing of the past.
Some of today's brides follow a new trend called "Trash the Dress" which is done as an additional shoot after the wedding, almost as a declaration that the wedding is done and the dress will not be used again.
Trash the dress, also known as "fearless bridal" or "rock the frock", is a style of wedding photography that contrasts elegant Bridal Dresses with an environment in which it is out of place. Generally shot in the style of fashion and glamour photography "Trash the dress" is seen as the art of deconstruction of a bride's wedding dress to create "artwork". This new "masterpiece" is formed in the creative destruction of the dress that the bride would be proud to display.
In Myrtle Beach, CMMS Studio has found that brides usually prefer to "Rock the Frock" on a beach, but other locations include city streets, rooftops, garbage dumps, fields, and abandoned buildings. Brides are increasingly expecting more from wedding photographers, and trash the dress is an example of these expectations.
Another age long tradition that has been replaced is that of grooms not viewing the bride prior to the wedding. A growing trend called "First Look" photography has become very popular among modern couples that are not as bothered with potential "bad luck".
For a "first look" session, the Bride and Groom set aside a special time that is unrushed which allows for the Photographer to capture their first glimpse of each other prior to the ceremony. This is a private and emotional moment for the couple not shared with any family or guests. CMMS Studio had the unique opportunity to capture a "First Look" for a couple of gals known as the "Haymore Twins".
On the beautiful grounds of the Grand Dunes Ocean Front Resort in Myrtle Beach, the Haymore Twins planned to share a private moment, each with her better half, prior to the ceremony. Ms. Brenda Lerner of CMMS Studio described the experience as "Tender and Emotional" as each bride met with her respective groom. The experience was taken a step further when the brides decided to share a special moment with their father and brother as well.
Modern wedding photographers must not only keep up with changing technology, they must also follow the new trends and traditions to stay competitive in the wedding photography world.
About CMMS Studio
Located in Loris, South Carolina, Custom Multi-Media Solutions, Inc. was founded and incorporated with the objective of providing cutting-edge multimedia services ranging from Photography and Video to Graphic Design at affordable rates to people everywhere. CMMS Studio offers a wide variety of photographic services from Commercial Modeling to General Portraiture. We believe that every customer is unique and has specific needs. We provide personalized attention to all of our clients to help meet their personal budget. Our professionals include a video production team that films weddings, dance recitals and family events as well as producing high quality TV commercial spots, documentaries and industrial/training videos. CMMS Studio offers Graphic Design solutions for small and large business with three designers that can design anything from business logos to signs, brochures, billboards and web sites. No job is too large or too small.