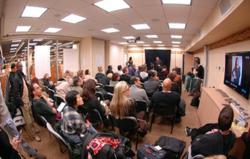 Photojournalist David Burnett reflecting on his iconic career, and how film can still be a viable tool in a digital age, are just a sample of what the photography community can experience in January, according to the 2013 monthly listing of Free Workshops
NYC, NY (PRWEB) January 03, 2013
B&H Photo is pleased to host The Hopeful Story Film Festival from the Independent Film School, highlighting diversity, empowerment and human connection. The festival is comprised of over 25 short films created by filmmakers who have studied with acclaimed director, producer and screenwriter Ela Thier. Ms. Thier will present the films, and facilitate short Q&A's with the filmmakers, following most screenings. The Film Festival is just a sample of what the photography community can experience in January, according to the 2013 monthly listing of Free Workshops and Special Events at B&H Event Space.
The New Year is all about reflection and transition—looking back and looking forward, and at the Event Space, photographers will join in doing just that. Look back at how photography was manipulated before Photoshop, with a photo walk to the remarkable show at The Met, and look to the future with Livestream Video.
At the Event Space, we toast 2013 on a positive note with The Hopeful Story Film Festival, and then answer the age-old question, "What's in Your Camera Bag?" Will 2013 be the year photographers finally pull together a body of work?
B&H Photo is all about offering the opportunity to understand all photography options: How to get one's work into galleries; how to go around the galleries and take work directly to the people; and how to transition personal projects into commercial jobs.
Photojournalist David Burnett will be at the Event Space to reflect on his career filled with iconic images, as well as how film can still be a viable tool in a digital age. B&H Event Space rounds out the month with a variety of approaches to portraiture, lighting and photo book design.
This January, photographers should resolve to spend more time with the B&H Photo Event Space, improving their photography.
The B&H Event Space is a leading-edge learning environment designed to educate, inspire, and cultivate a community of like-minded individuals, who aspire to be great at what they love to do. By offering free workshops and lectures in photography, video and pro audio, it is B&H Photo's mission to help those in this community achieve their goals.
The B&H Event Space partners with major photography manufacturers in the imaging industry and academic institutions in the arts to produce a wide range of workshops and seminars covering a vast spectrum of topics. B&H "Mavens," employees who are experts on a specific topic, teach classes in the Event Space. On Sundays, high-profile and emerging photographers, as well as industry professionals, deliver inspirational lectures about their work and spin their personal tales of success.
With more choices than ever among digital camera gear, camcorders, and other consumer electronics gear, consumers who are looking for the right gift for loved ones can easily be overwhelmed. With over 100 up-to-date, informative articles, which includes buying guides, product reviews, roundups and tips & solutions B&H Photo is here to help.
http://www.bhphotovideo.com/indepth/
Connect with B&H Photo on the web! (Facebook, Twitter, Tumblr, Google+, Pinterest, Flickr, YouTube, B&H Insights & InDepth)
The B&H Event Space is more than a physical space. We feature event videos online that are also available through podcasts, so that you can view them at home or while traveling.
B&H Photo is pleased to offer an astonishing array of free seminars and inspirational lectures by talented pros from around the world. You can self-register online to guarantee a seat.
The B&H Event Space is located on the second floor of the SuperStore, at 420 9th Ave, New York, NY 10001.
About B&H Photo Video
As the world's largest source of photography video and audio equipment, B&H Photo-Video is known worldwide for their attentive, knowledgeable sales force, and excellent customer service, including fast, reliable shipping. Visitors to the website can access a variety of enlightening articles and educational videos. B&H has been satisfying customers worldwide for close to 40 years.