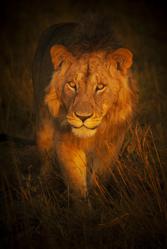 The quality accommodations, expertise of the professional photographers and our expert safari guides provide tremendous value to photography enthusiasts who want more than a traditional safari; this is a photography seminar and luxury safari on location.
New York, New York (PRWEB) September 28, 2011
Odyssey Safaris and Aperture Academy today announced they are offering two two-week luxury photography safari workshop in Kenya. Escorted by safari guides and professional photographers, travelers will be able to improve their photography skills through close instruction from Aperture Academy's professional instructors and personal attention from Odyssey Safaris's guides who will get them in position for the perfect shot. The safari workshops, which will take place in August 2012, will visit the leading safaris sites and luxury accommodations in Kenya.
"Odyssey Safaris is excited to add luxury photography safaris to our travel offerings in Eastern Africa," said Mark Cahill, managing director of Odyssey Safaris. "There is a significant need for customized safari experiences and we believe the quality accommodations, expertise of the professional photographers and our personalized safari guides will provide tremendous value to photography enthusiasts who want to do more than a traditional safari. This is a photography seminar and luxury safari on location."
The customized safari itinerary was created to maximize time in each location, giving the photographers more time to practice their skills and get the best shots of the Kenyan wildlife, landscape and people. In addition, with only three photographers per luxury safari vehicle, each photographer will have plenty of room to shoot and learn from the instructors.
"As photographers, we cringe every time we see a safari vehicle loaded with multiple passengers per row attempting to get good shots of wildlife," said Scott Davis, photography instructor with Aperture Academy. "Nothing could be more frustrating than sharing your row of seats with someone else with the action happening on one side of the vehicle. Our partnership with Odyssey Safaris will allow our customers to get up really close to the wildlife."
Photography Safari Itinerary
3 nights Samburu National Reserve
2 nights Lake Nakuru National Park
6 nights Masai Mara National Reserve
Photography Safari Accommodations
The following luxurious safari accommodations in Kenya will be visited:
Nairobi: Fairview Hotel
Samburu: Samburu Intrepids
Nakuru: Lake Nakuru Lodge
Mara: Mara Intrepids (3 nights) AND Mara Serena Safari Lodge (3 nights)
Departure Dates
Due to the high demand for customized photography safaris, the initial departure date sold out in one week and the companies have offered an additional departure date of August 18, 2012, to meet demand.
Price
$9,800 per person sharing
The workshop/tour price includes:
Lodging (single supplement add $1,200)
All in-country transportation
Park fees
Meals
For more information or to book contact Aperture Academy at (408) 369-8585 or http://www.apertureacademy.com/photography-workshops-africa.php
About Odyssey Safaris
Founded in 2004 Odyssey Safaris immediately sought to address the need for outstanding customer service and the extra value that customized safaris offer. Working with the local knowledge of partner and Safari Operations Director Eliud Karimi and staff, Managing Director Mark Cahill provides information and insight to travelers to assist them in creating the perfect Kenya or Tanzania safari. The companies extra-net on their website and offices in the US and Kenya provide 24 our support to travelers and travel agents to manage their travel details.
"The destinations in east Africa are incredible and clients are obviously thrilled with that part of the trip, but what really makes a safari special is the people who execute it for you, the guide, the planner and support staff, said Managing Director Mark Cahill. "Once your on the plane to east Africa professionalism is extremely important and our clients are exceedingly impressed with our staff and some have remained friends; its a priceless value add."
Odyssey Safaris is a member of the Association for the Promotion of Tourism (APTA) to Africa and the Africa Travel Association (ATA).
View all of Odyssey Safaris Kenya Safaris, Tanzania Safaris, and Kenya and Tanzania safaris products.
Read about all of the steps Odyssey Safaris takes to make your trip as enjoyable as possible: Safe Safari Travel
Contact
Mark Cahill
Odyssey Safaris
1-855-2SAFARI
m(dot)cahill(at)odysseysafaris(dot)com
About Aperture Academy
Aperture Academy was founded by Stephen W. Oachs, an award-winning photographer, successful entrepreneur and technology veteran. He was recognized in 2007 as wildlife photographer of the year by the National Wildlife Federation and was awarded best nature photographer in 2008 by National Geographic. His work has graced the pages of such notable publications such as National Geographic, Popular Photography, Outdoor Photographer, National Wildlife Magazine and many others.
In 2009 Stephen founded The Aperture Academy, a unique combination of fine art photography gallery in conjunction with classroom and workshop instruction. Students of the Aperture Academy receive hands on instruction designed for their individual skill level which includes everything from learning to shoot in the field to digital post processing techniques.
Contact
Stephen W. Oachs
Aperture Academy
(408) 369-8585
###