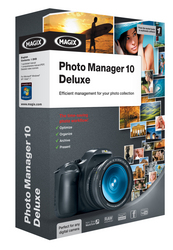 There are many unique and strong features in this new package
Reno, NV (Vocus) September 1, 2010
MAGIX's Photo Manager 10 Deluxe offers everything users could possibly need for the management and optimization of large personal photo collections. With new features that allow direct uploads to many social media networks, automatic search and tagging familiar faces, or even optimize photos with a single click. These are just some of the great things that can be done with the new MAGIX Photo Manager 10 Deluxe.
Photo Manager is what many consider to be the missing application from a digital camera's standard installation software package, allowing users to effortlessly enhance photos, and automatically manage videos, photos and secure them with digital archiving options. Images and videos can then be transformed into presentations, uploaded to Facebook, or shared with a password protected online service.
"There are many unique and strong features in this new package," said Klaus Fischer, Product Manager for MAGIX's Consumer Photographic line, "the first is the built-in assistant that allows you to organize large photo collections. This is perfect for when you are returning from holiday and only want to showcase the best of your collection. It automatically removes bad shots and duplicate shots in a single click. Everybody who has a photo collection knows that one of the major issues they can have is pairing down their collections to the best 20 out of 500 photos. This is that tool."
"We are also very excited about our new automatic optimization for display sharpness, where it takes your photos and automatically adjusts them for optimal sharpness," says Fischer.
"Of course we have included some of our features that where showcased in our previous versions, including automatic Facebook , Flickr, and YouTube uploads, and MAGIX's own facial recognition algorithm that allows for organizing your photos by who is in them and even allows you to add automatic tags and build sorted lists."
Features

A must-have accessory for every digital camera and camera phone
Networks users' personal photo experiences between PC, Internet, and mobile devices
All-in-One: Manage, optimize, edit, back up, archive, forward, present in a single easy-to-use program
New highlights

Assistant for quickly finding and compiling the best shots
Razor-sharp presentations thanks to automatic re-sharpening of the display
Present photos and slideshows directly on the Internet community portal Facebook™
Presentations of personal travel routes on online maps can now be animated
Improved camera import (now for videos and audio too) and much more
MAGIX Photo Manager 10 is available on August 31st, 2010 for 59.99. From September 17th to the 23rd, this product will be available as a bundle download with MAGIX's PC Check & Tuning 2010 for the special price of 49.99 US and 59.99 CAN, saving users over 50 dollars.
MAGIX is a leading international provider of high-quality software, online services and digital content for multimedia communications. Since 1993, MAGIX has developed leading technologies for creating, editing, managing and presenting photos, graphics, videos and music.
MAGIX operates internationally from branches in the USA, Canada, the UK, France, Italy, Spain and the Netherlands. The product range is targeted towards both laymen and professionals alike, going beyond the PC platform to include seamlessly integrated online and mobile applications.
According to its retail sales figures, MAGIX leads in the multimedia software sector in many important European markets, and is one of the most successful competitors in the USA. Over fifteen years of market presence and over a thousand awards worldwide testify to the company's power of innovation.
###