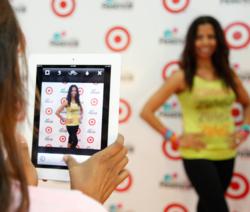 Event Photo Marketing is essential to spread your brand, message or product
Orlando, FL (PRWEB) October 03, 2012
Convention Photography and Event Photography has always been a part of every conference, but recently a new way of engaging and creating a unique customer experience for your attendees is Photo Marketing that includes Social Media with Onsite Printing Photography for consumers to connect with the brand, product or service that drives sales and increases brand image and awareness.
A New York client during a recent product launch wanted more than to just give a print to each guest but also drive traffic to their Facebook, website and Instagram account. Using software created exclusively by Professional Images Photography the images were sent in seconds and a photo was printed just as quick. Photo Marketing is growing exponentially and over 80% of consumers that Professional Images surveyed indicated they would be interested in taking home a keepsake photo with a logo from a high profile event.
Branded takeaways such as photos with logos given to consumers creates a presence and provides great branding. Custom backdrops serve as focal points for events of all sizes and are customized for a variety of themes and venues. Brand ambassadors use digital cameras, IPads, or cell phones to capture images creating the perfect opportunity to showcase clients products or services. Individual or group photos can be retrieve online and or printed onsite. Experiential photo marketing allows customers to engage and interact with brand, products and services.
Photo Marketing combined with Social Media and Onsite Printing Photography is customer engagement that provides consumers with a photo that creates brand interaction beyond the event.
About Us:
Professional Images Photography founded in 1987 provides Convention Photography, Onsite Printing and Event photography and Event Photo Marketing services Nationwide. The company is based in San Antonio, TX with offices in Houston, Orlando, Washington D.C. and now coming soon to Las Vegas, NV.