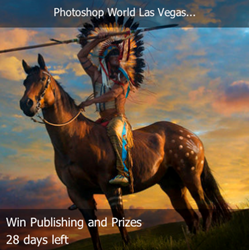 Tampa, FL (PRWEB) July 25, 2013
Organizers of the Adobe-sponsored Photoshop World Conference & Expo, have launched a Photoshop Photo Contest with ViewBug (a premier photo contest site), in anticipation of the upcoming September conference and expo and to inspire the creative use of photography and Photoshop. The contest is free to enter, and participants are to submit photos that represent the best use of photoshop by midnight, Monday, Aug. 19th.
Winners will be selected by Scott Kelby, president of the National Association of Photoshop Professionals (NAPP), KelbyTraining.com, creator and host of The Grid, and Photoshop World technical director along with Matt Kloskowski, education director for NAPP, Photoshop and Lightroom instructor, Photoshop Guy and co-host of The Grid.
Scott Kelby and Matt Kloskowski will be judging the winning entries live on The Grid. The Grid is a live talk show all about photography, Photoshop and other industry-related topics. Viewers are encouraged to participate in the show via the live blog at KelbyTV.com or via Twitter by adding #TheGridLive to their tweets.
One Grand Prize winner will receive a one-year membership to NAPP, a one-year subscription to KelbyTraining.com, and will be recognized during the opening ceremony at Photoshop World. The winner's work will also be published in a future issue of Photoshop User magazine.
The contest will also award a people's choice winner. Prize details at http://www.viewbug.com/contests/photoshop-world-las-vegas-photo-contest
"We are very excited to run a second contest with Scott Kelby to encourage creativity through photography to celebrate Photoshop World," said Ori Gruttin, ViewBug co-founder.
About Photoshop World
The Photoshop World Conference & Expo is the official convention of the National Association of Photoshop Professionals NAPP and the largest Adobe Photoshop and photography event in the world. The three-day conference features over 100 classes taught by 35 of industry's most creative and talented Photoshop, photography, and lighting experts. Its two-day Expo is packed with exhibits from leading hardware and software companies as well as major retailers.
About ViewBug
ViewBug is the biggest online photo contest community providing an opportunity for photographers to share photos with chances to win prizes. ViewBug gives everyone an opportunity to be discovered. Unlike other photography competitions, ViewBug makes the photography contests fun and social by providing prizes by the best brands in the industry and including the most influential photographers as judges. Participants can also help judges select winners with a crowd sourced trifecta voting tool. A fast-growing company, ViewBug is based in San Diego with business development partners in Las Vega and San Francisco.