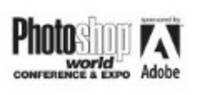 TAMPA, Fla. (PRWEB) February 7, 2008
This year's conference features more than 100 in-depth classes taught by 40 top industry experts, including Scott Kelby, Dave Cross, Katrin Eismann, Bert Monroy, Fay Sirkis, Joe McNally, Dan Margulis, Jeff Schewe, David Ziser, and more. Class sessions are dedicated to Adobe Photoshop(R), Lightroom(R), Photoshop Extended, and Web development applications, as well as commercial design, outdoor and wedding photography, motion graphics and video, scripting, HDR (High Dynamic Range) photography, and much more. Additionally, Photoshop World will feature a three-day Tech Expo showcasing the latest cutting-edge digital imaging and graphic design related products, professional portfolio reviews, 12 pre-conference workshops, and exciting after-hours social events. For a full schedule or to download a conference brochure, visit http://www.photoshopworld.com.
Photoshop World Conference & Expo advance registration is $599US by Feb. 29 for the general public and $699US after; NAPP member advance registration is only $499US before Feb. 29 and $599US after. Special pricing is also available for students, educators, and alumni of Photoshop World. Register at http://www.photoshopworld.com or call toll free at 800-738-8513, Monday-Friday, 8:30am-7:00pm EST.
About NAPP
The National Association of Photoshop Professionals (NAPP) is a dynamic trade association, and the world's leading resource for Adobe Photoshop training, news, and education. An award-winning team of Photoshop experts, authors, consultants, and trainers lead the association keeping its members on the cutting edge of Adobe Photoshop techniques and technology. Visit http://www.photoshopuser.com for more information.
Adobe, Photoshop, and Lightroom are registered trademarks of Adobe Systems Incorporated. All other trademarks are property of their respective owners.