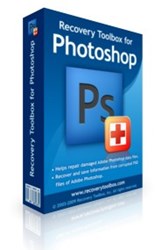 a Photoshop recovery tool that outperforms all of its direct competitors in terms of speed, quality and efficiency
Sacramento, CA (PRWEB) May 21, 2013
Recovery Toolbox, a well-known provider of efficient recovery tools for various applications, announces the release of Recovery Toolbox for Photoshop, a Photoshop recovery tool that outperforms all of its direct competitors in terms of speed, quality and efficiency of data recovery. Based on a largely rewritten engine, this compact solution is capable of opening Photoshop *.PSD files in virtually any state and perform thorough layer-by-layer analysis and data recovery.
Recovery Toolbox for Photoshop ( download ) uses a multi-step wizard in its interface to minimize the possibility of a human mistake and to guide the user from A to Z within a minimal time period. The built-in viewer shows a tree of recoverable objects and their properties, which may be useful for determining a single parameter without restoring the entire file. This Photoshop recovery tool supports all major versions of Windows and requires absolutely no additional components or libraries to operate.
"We fully realize the role of Photoshop in today's digital world, so we couldn't just ignore this opportunity to add a Photoshop specific product to our portfolio," says Victor Bobrov, Lead Developer at Recovery Toolbox. "Judging by our own and independent tests, the program demonstrates excellent results in various situations and requires literally no time to get used to."
A free trial copy of the program can be downloaded from the manufacturer's website. All Recovery Toolbox products are scanned for viruses and other types of the malware.