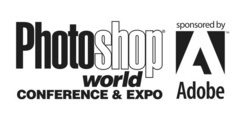 TAMPA, Fla. (PRWEB) July 23, 2008
This exceptional money-saving discount is available to all individuals interested in attending an amazing educational event that will forever change the way they use Photoshop. Register early online or call toll-free 800-738-8513, Monday-Friday, 8:30am-7:00pm EST.
The west coast Photoshop World Conference & Expo features more than 100 in-depth classes taught by an all-star line up of industry experts including: Scott Kelby, Dave Cross, Bert Monroy, Matt Kloskowski, Fay Sirkis, Dan Margulis, Joe McNally, David Ziser, and more. Class sessions cover Adobe Photoshop®, Lightroom®, Photoshop Extended, and Web development applications; as well as, commercial design, outdoor and wedding photography, motion graphics and video, scripting, HDR (High Dynamic Range) photography, and much more. Download the complete brochure here.
Accompanying the jam-packed class schedule is a three-day Tech Expo, which showcases the latest cutting-edge digital imaging and graphic design related products offered by Adobe, Microsoft, Epson, Canon, Dell, Wacom, Corel, iStockphoto, onOne software, B&H, Kelby Training, and Peachpit, and more.
Photoshop World Conference & Expo registration is $599US by August 1 and $699US after for the general public. NAPP member advance registration is only $499US before August 1 and $599US after. Special pricing is available for students, educators, and Photoshop World alumni.
About Photoshop World
Photoshop World Conference & Expo is sponsored by Adobe Systems Incorporated and produced by the National Association of Photoshop Professionals (NAPP) twice a year.
About NAPP
The National Association of Photoshop Professionals (NAPP) is a dynamic trade association, and the world's leading resource for Adobe Photoshop training, news, and education. An award-winning team of Photoshop experts, authors, consultants, and trainers lead the association, keeping its members on the cutting edge of Adobe Photoshop techniques and technology. Visit http://www.photoshopuser.com for more information.
Adobe, Photoshop, and Lightroom are registered trademarks of Adobe Systems Incorporated. All other trademarks are property of their respective owners.