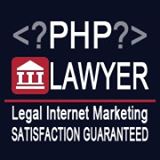 Our previous success stories and returning customers are our most valuable ambassadors.
Carlsbad, CA (PRWEB) June 27, 2013
PHP Lawyer, a California based Legal Internet Marketing Company with extensive experience in marketing and legal online promotion just launched their new website.
Unlike other internet marketing companies, PHP Lawyer handles clients exclusively from legal industries. The services they offer are extensive and effective, covering all needed areas of online marketing.
PHP Lawyer is for lawyers or law firms eager to build a strong online presence, wanting to target new clients, wishing to increase brand awareness, in need of higher conversion rates from their websites. PHP Lawyer provides individualized services and provides regular maintenance and consulting.
"Our testimonials and returning customers are our most valuable ambassadors."
PHP Lawyer's service range includes: web design and development, SEO (Search Engine Optimization, PPC (Pay Per Click) management, SMO (Social Media Optimization) management, reputation management, mobile sites, multi-language sites, legal blogs, video promotion and Radio & TV ads.
Lawyers or law-firms who would like to request a Web Demo can visit http://www.phplawyer.com/ or to call (334) 232 – 9255.
PHP Lawyer offers services customized to meet all needs and budgets, offers full-time customer support and guarantees results. PHP Lawyer is only using strategies that comply with Google guidelines protecting clients websites from penalties, filters and bad practices.
"We are constantly improving ourselves to use only the latest SEO strategies, techniques and tactics."
About PHP Lawyer
PHP Lawyer based in Carlsbad, California is a Legal Internet Marketing Company serving attorneys and law-firms nationwide. Accepting clients only from the legal field, PHP Lawyer offers a full range of internet marketing services at affordable price.
# # #