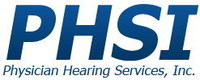 PHSI provides solutions that not only bring more value and service to the patients, but also increase the profitability of a given ophthalmology practice
Bonita Springs, FL (PRWEB) April 9, 2010
PHSI - Physician Hearing Services, Inc., the acknowledged leader in "Hearing in Ophthalmology Programs", will be exhibiting at the ASCRS/ASOA meeting in Boston April 10-13th in Booth 2041. Showcasing their revolutionary vision and hearing turnkey business, PHSI informs and teaches Physicians and Ophthalmology Practice Administrators about the growing need, and also the benefits of adding highly profitable Hearing Services for their vision patients.
Working with the most innovative and progressive ophthalmic practices in the nation, PHSI, Inc. is taking ophthalmology a step further by incorporating hearing loss diagnosis and treatment with their already premier vision services. As many specialists are facing tough times upholding their bottom line and retaining their facilities, PHSI provides solutions that not only bring more value and service to the patients, but also increase the profitability of a given ophthalmology practice. Estimates range 30 to 40 million people in the U.S. have undiagnosed, clinically significant hearing loss, and this proven method that is to be presented at the ASCRS Symposium & ASOA Congress in Boston will help vision professionals provide necessary hearing services and customer satisfaction to their community.
PHSI guides vision clinics through the process of equipping, setting up, staffing, stocking, opening, and operating successful hearing programs. Utilizing existing patients, PHSI will provide action plans, forms, script notes, marketing materials, strategies, and ongoing consultation towards a beneficial future with vision and hearing healthcare. For more information and to register for a free webinar, visit http://www.phsimd.com .
About PHSI: Physician's Hearing Service, Inc was founded by Reg Garratt and John Olive, two Senior partners that have identified the need for medically based hearing health distribution. Garratt and Olive joined forces in the year 2000 when they served together as President and Executive Director of the Better Hearing Institute in Washington, DC. Their extensive backgrounds in healthcare marketing and planning, as well as hearing instruments and hospital management, have fostered their continuing prosperous relationship into the hearing healthcare industry.
###