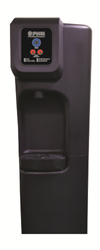 "We have a brand new look which works well as a standalone premium water purification system while also lending to a cohesive product family feel with an uncompromising, pure taste that must be sampled to be truly appreciated." Bob Tangredi, CEO of PHSI
Vernon Hills, IL (PRWEB) March 15, 2016
PHSI®, the leading manufacturer and supplier of water coolers and beverage products for businesses around the world, is excited to announce the launch of the PHSI 2i at the WQA Convention and Exposition in Nashville, TN on March 14-17, 2016. WQA represents every segment of the increasingly complex and dynamic water treatment and supply market.
The 2i is a point of use water delivery system for the workplace designed with a brand new look featuring a sleek body design with a tank slightly smaller than the 3i. In addition to our brand-standard advanced purification system, it's equipped with a new touchpad with intuitive hot and cold dispense buttons, while also providing system indicator lights, and a clean contact surface on the front interface. PHSI's 2i is available today for presale with availability starting in August 2016.
We have continued our commitment to provide leak detection and prevention and have upgraded our system monitoring to include a filter life indicator which is not available on the bluV. A light indicator will alert you when the filters are due for replacement. Best of all, the 2i uses activated oxygen sanitation technology, previously only seen in our 3i models. A 2i unit will be on display at WQA in the PHSI Booth #135.
"The 2i is the next generation combination of our bluV and 3i product, which creates an affordable point of use water solution with superior ozone technology," said Bob Tangredi, CEO of PHSI. "We have a brand new look which works well as a standalone premium water purification system while also lending to a cohesive product family feel with an uncompromising, pure taste that must be sampled to be truly appreciated."
For more information about the 2i, visit PHSI at WQA or contact acalomino(at)purehealthsolutions.com.