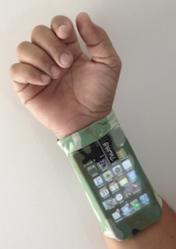 Phubby has been a huge success in California and will be debuted in Washington State soon!
Seattle, WA (PRWEB) June 21, 2013
Nifty-Nifty.com, the leading online retailer of nifty, innovative products as seen on TV, is excited to announce that Phubby the wrist cell phone holder, which has been so successful in California, is now available to shoppers in the UK, Australia, Europe, Dubai, Chile, France, Israel, South Africa, New Zealand and just about anywhere, with a low shipping cost of just $5.00. Consumers in Washington State can be watching for the Phubby debut in their State soon. The Phubby wrist cell phone holder, showcased on TV program was originally created by Ted Ross and is now available at Nifty-Nifty.
"We have sold the Phubby, the wrist cubby wrist cell phone holder, for quite some time," explained Wendy Miller, co-owner of Nifty-Nifty.com. "What's exciting is that Phubby the wrist cell phone holder and wrist wallet has been so successful in California, that we are extending the availability of Phubby north, south, east and west and even outside of the USA!"
For more information on the Phubby, go to: http://www.nifty-nifty.com/phubby-wrist-cellphone-holder-view-operate-your-phone-thru-the-fabric/.
Canadian residents are very sensitive to shipping costs, and this enhanced program provides the opportunity to buy the Phubby, the wrist cell phone holder, at the same low prices as USA citizens and pay no shipping costs. Nifty-Nifty prices are better than most Phubby coupon offers, and the company prides itself on a "no games" policy of not artificially raising prices on shipping.
About the Phubby, the wrist cubby, wrist cell phone holder
Phubby wrist cell phone holder is ideal for runners, when a consumer is going for a walk, jogging, fishing, hiking, biking, cycling, on a motorbike, playing an instrument, gardening, cooking, working on the computer, playing sports, traveling, at home - expecting a call, hiking, or going anywhere and want to be HANDS FREE. If in a crowded or noisy place, the consumer will feel the vibration thru the nifty PHUBBY. Phubby is perfect to carry a cellphone, iPod, credit cards, key on the wrist.
Phubby is the running cell phone holder, the jogging cell phone holder, the hiking cell phone holder, the never miss a call cell phone holder. Some people call Phubby the Phubby sport wrist cubby or Phubby wrist phone cubby. Phubby for running is perfect. Amazingly the phone can be viewed and operated without even taking it out of the Phubby. Phubby as a wrist wallet is a functional, practical and unique way to carry a cell phone.
About Nifty-Nifty.com
Nifty-Nifty.com is the world's leading online retailer of innovative, nifty products. The company specializes in online retailing of products such as the Readerest, Phubby, Cross Body Cell Phone Purses, Hip Klips and other innovative online products at the best prices with no charge shipping in the USA and Canada.
http://www.Nifty-nifty.com
Tel. 858-248-2302