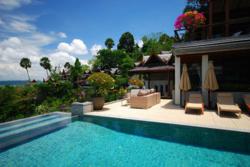 Enjoying in Luxury Phuket Beach Villas are One of Best Ways to Spend a Memorable Vacation in Phuket.
Phuket, Thailand (PRWEB) July 25, 2012
Phuket is the magical Thai island where white sandy beaches and crystal clear turquoise waters meet lush green rainforest. With some of the most beautiful beaches in the world, this sought after holiday destination is also wildly popular! Where do those in the know go for seclusion, privacy and 5 star luxury? Whether one is looking for a quiet luxurious romantic getaway, a relaxed and fun filled family holiday or a fabulous party experience, Phuket can deliver! Here's our guide to finding the best places in Phuket.
Phuket and its surrounding islands are ideal for sailing, diving & snorkelling, golfing and all kinds of sports & entertainment you can wish for. One can take trips to the islands on private boat charters, laze on pristine white sand beaches and pick up fantastic bargains while shopping there.
Patong the Party Beach: Chaotic, frenetic, electric but undeniably beautiful and exciting! By day, Patong's 2 km strip of golden sand is one of the most popular beaches in Phuket. It is a hive of activity where one can enjoy all kinds of water sports and activities including para sailing, jet-skiing, banana boating, and speed boating. While Patong is very exciting for some, it is not the place for people who want a tranquil environment. Our advice is to stay outside of Patong for a relaxing holiday.
Kata for Families: Very popular with families, Kata is an all round favourite due to its spectacular palm-lined beach, great restaurants, lively nightlife - all close to the beach. From May to October surfers flock to catch Kata's waves and from November to April the beach is alive with sun seekers. Top Tip for Romantics: Near Kata beach is the more remote Kata Noi. This cosy little bay is found at the end of a dead-end road, just a few minutes' drive over the hill from Kata beach. One can relax, take a walk along the soft sands, snorkel or swim.
Karon for Wide Open Spaces: Karon has a gorgeous beach and features a string of top end holiday villas tastefully set back from the beach, ensuring the beach retains its secluded atmosphere. Karon Beach is very long and never feels crowded, even at the peak of tourist season. The north end of Karon beach is usually deserted so it's perfect if you want the beach all to yourself. Karon has several fine restaurants in the village but none of the commercialized nightlife or neon lights of Kata or Patong. It is the ideal destination for relaxed holiday making.
Kamala for Relaxed Seclusion: Tranquil, calm, crystal clear waters and a white sandy beach, combined with a quiet, relaxed atmosphere make Kamala beach very attractive for visitors seeking a peaceful place to soak up the sun. Kamala is one of Phuket's prettiest beaches but also one of it's most secluded. It also has some of Phuket's most beautiful and luxurious villa rentals making it the perfect location for those seeking privacy and luxury.
Surin the Local Favorite: Surin's casuarina-lined beach front is a gathering place for locals and visitors alike to snack on barbecued seafood, enjoy a cool drink and escape the heat of the day. Such a picturesque beach, it's not surprising it's many people's favourite in Phuket. Surin beach is on the up and up so for celebrities, the only way to enjoy it is while staying gated villas and resorts.
##
About Villa Getaways: Thai Villa Getaways have a superb range of luxury villas and resorts available in all the finest areas of Phuket & Thailand and are absolutely the best way to spend your holidays. Holidaying in one of our Phuket villas or resorts will provide the comfort, privacy, and luxury that only our exclusive properties can. Our stunning villa rentals rival the most popular Thailand resorts available and are located in only the most magnificent Thai holiday locations. We are proud that many of our villas in Thailand are built in traditional Thai style, adding to your holiday experience and giving you a true feel for Thai culture. If you have any questions regarding thailand vacation properties and popular phuket beach villas, please contact us at http://www.thaivillagetaways.com