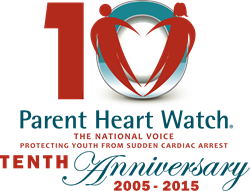 In the beginning, no one was talking about SCA in youth because the perception was that it didn't happen to kids. We have made tremendous progress.
Philadelphia, PA (PRWEB) February 27, 2015
Parent Heart Watch (PHW), the national voice solely dedicated to protecting youth from sudden cardiac arrest and preventable sudden cardiac death, is commemorating its 10th anniversary by launching "10 Lists of 10" over the next 10 months to raise awareness of sudden cardiac arrest (SCA) in youth.
Each month, PHW will distribute a "List of 10" to help raise awareness about SCA in youth. Examples of featured topics include the "Top 10Warning Signs and Symptoms of a Heart Condition in Youth" or the "Ten Most Important Things Your Child's School Needs to Know to Save A Life".
Parent Heart Watch was founded in 2005 by four mothers who lost a child to sudden cardiac arrest. Today the organization serves as the national leader for SCA advocates working tirelessly in their own communities to prevent SCA. Members include parents who have lost a child to SCA, parents who have a child that survived SCA or is living with a heart condition, young SCA survivors, medical and allied health professionals and other action-oriented advocates.
Many PHW members have their own local foundation named in memory of their child. "In the beginning, no one was talking about SCA in youth because the perception was that it didn't happen to kids" said Executive Director Michele Snyder. "Automated external defibrillators (AEDs) were not widely available and the idea of early detection through electrocardiogram (ECG) screening was a foreign concept. We have made tremendous progress."
In its ten year history, with an average reporting rate of 20%, PHW members have placed over 2,800 AEDs, provided heart screenings to more than 124,000 children and young adults, and trained 62,900 people in CPR and AED use. The number of PHW member organizations that provide free or low heart screenings has increased exponentially in the past 3-4 years, with 44 organizations offering screenings in 25 states and growing.
PHW is proud to have served as one of the catalysts for the establishment of the Sudden Death in the Young Registry by the National Institutes of Health and the Centers for Disease Control and Prevention, which will help determine the incidence of sudden cardiac death in the young, expand research and prevention strategies. Data collection began in January 2015.
For more information about SCA in youth, visit http://www.parentheartwatch.org or watch SCA in Youth: The Passion Behind the Purpose.