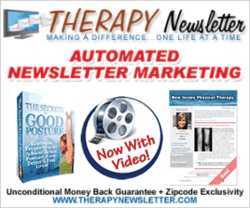 Social media is a necessity for physical therapy marketing, providing the means to expand a therapist's patient base for increased revenues.
Denville, NJ (PRWEB) December 28, 2011
"As we head towards 2012, social media will no longer be a fad, it will be a revolution," said Chhoda in his new book on "Marketing for Physical Therapy Clinics".
Chhoda contends that social media can help therapists market their business, educate consumers about the profession, and uncover and mitigate any public issues or concerns in real time.
Many physical therapists know they should maintain a social media presence but don't think they have the knowledge, time or personnel to do so. Social media is time consuming, but the benefits are significant. For those who don't have time to devote to a social media site, it may be easier to hire an outside firm or individual to manage it, but choose wisely.
Chhoda's new book, "Marketing for Physical Therapy Clinics" provides a done-for-you system that provides in-depth information on social media management.
Physical therapy marketing assists therapists in being involved with patients and establishing rapport with website visitors. Here are some tips to create a social media presence in 2012, as outlined in Chhoda's new book.

A social media presence must be cultivated carefully. It's more important to have timely, interesting and accurate content than trying to launch a page on every popular site.
Social media functions as the online equivalent of word of mouth advertising and the goal is to develop a loyal following in the online community.
Social media is a powerful marketing tool for building reputations, gaining greater visibility and obtaining leads on new patients.
LinkedIn, Twitter and Facebook are all examples of social media that helps therapists keep in touch with clients, while providing helpful information about the benefits of physical therapy.
The biggest mistake to avoid; social media page shouldn't be an advertisement. It should be an interesting, fun and informational place where people come to interact through comments, photos and even videos.
Another advantage of a social media site is that it is an ideal means for physical therapists to discover how patients view the business, staff and level of service they received.
Issues and concerns can be dealt with in real time for better customer satisfaction. Visitors can use it to conduct discussions, and it can serve as a catalyst for therapists to implement changes in their services, physical therapy billing and patient care.
Social media is a necessity for physical therapy marketing, providing the means to expand a therapist's patient base for increased revenues. It's a cost effective means of advertising that reaches hundreds of local patients.
Therapists can educate, build a reputation and attain greater prominence, and even offer special deals and promotions, all from a single site. The social media revolution is changing the way physical therapy business owners conduct commerce for a more profitable result.
Chhoda's office can be reached by phone at 201-535-4475. For more information, visit the website at http://www.nitin360.com.
ABOUT NITIN CHHODA
Nitin Chhoda is a licensed physical therapist, a doctor of physical therapy, and a certified strength and conditioning specialist. He's the author of "Total Activation: The New 5 Step Fitness Mantra" and "Marketing for Physical Therapy Clinics." He's been featured in numerous industry magazines, major radio and broadcast media, and is the founder of Referral Ignition training systems, Private Practice Summit, the Private Practice Formula and the Private Practice Mastermind group. Chhoda speaks extensively throughout the U.S., Canada and Asia. He's the creator of the Therapy Newsletter, along with Clinical Contact, a web-based service that boosts patient arrival rates.
###