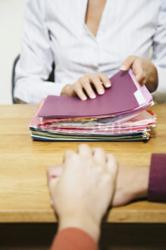 EMRs assist physical therapists with all facets of their practice, from enhancing patient treatment and collection of reimbursements to marketing efforts.
Denville, NJ (PRWEB) July 11, 2012
"Physical therapy documentation is a key component of any practice," said Chhoda "and electronic medical records provide protection for the therapist and enhanced care for the patient. It's crucial for therapists to invest their time in high-value activities in their practice, and EMRs allow them to control their practice instead of the practice controlling them."
Part of intelligent physical therapy management for professionals is knowing where to best place their time and effort. Occupational therapy software eliminates time-consuming paperwork and valuable man-hours that can be allocated to treating patients, spending time with family, and marketing the practice. Chhoda named the following top five reasons for switching to an EMR.

Accessibility – Physical therapy documentation is instantly available any time it's needed, from virtually any location. Physical therapists can access treatments, prescriptions and procedures clients have obtained from other medical professionals and handle situations in real time as they occur.
Documentation – Physical therapy software allows therapists to keep patient records updated on the go with complete notes that are essential in the event of a lawsuit. An EMR system provides an easy way to remain in compliance and offers at-a-glance information to prevent insurance paybacks.
Minimize risk – An EMR system aids physical therapists in identifying patient risk factors that directly affect the bottom line. Patients that self-terminate treatment, those with a history of no-shows and those that require reminders can be pinpointed. Patient scheduling capabilities are also available.
Referrals and marketing – Occupational therapy software allows therapists to ascertain where referrals are originating and the number of patients that actually schedule an appointment. Therapists can utilize the information to develop and focus marketing campaigns where they're most effective.
Faster reimbursements – Physical therapy billing is completed much quicker with an EMR system and can often be ready for submission before the patient leaves the office. It also offers the means for therapists to identify disparities in reimbursements among providers.
Chhoda's new top five tips for implementing an electronic medical records system provide ample evidence of the efficacy and efficiency offered with the use of physical therapy software. EMRs assist physical therapists with all facets of their practice, from enhancing patient treatment and collection of reimbursements to marketing efforts.
Chhoda's office can be reached by phone at 201-535-4475. For more information, visit the website at http://www.emrnews.com.
ABOUT NITIN CHHODA
Nitin Chhoda PT, DPT is a licensed physical therapist, a certified strength and conditioning specialist and an entrepreneur. He is the author of "Physical Therapy Marketing For The New Economy" and "Marketing for Physical Therapy Clinics" and is a prolific speaker, writer and creator of products and systems to streamline medical billing and coding, electronic medical records, health care practice management and marketing to increase referrals. He has been featured in numerous industry magazines, major radio and broadcast media, and is the founder of Referral Ignition training systems and the annual Private Practice Summit. Chhoda speaks extensively throughout the U.S., Canada and Asia. He is also the creator of the Therapy Newsletter and Clinical Contact, both web-based services to help private practices improve communication with patients, delivery better quality of care and boost patient retention.