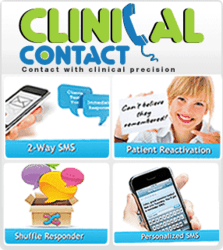 As you evolve as a private practice owner, there will be some decisive shifts in your mindset, which will determine your priorities and govern your business decisions.
Denville, NJ (PRWEB) December 31, 2011
"As you evolve as a private practice owner, there will be some decisive shifts in your mindset, which will determine your priorities and govern your business decisions," said Chhoda in this brand new practice management blueprint entitled "Success Factor 2012"
In the marketing stage, those with a physical therapy business are primarily concerned with engaging new patients, obtaining referrals, and creating a system that works efficiently. To obtain those patients, therapists must use every tool at their disposal. That can include networking with those in complementary fields, launching a website, and utilizing social media.
Chhoda offers a turnkey solution with Clinical Contact that utilizes the same techniques as Fortune 500 companies. Therapists can capitalize on the enormous mobile market with text messaging, SMS technology and mobile coupons. Clinical Contact incorporates social media, voice broadcasting and appointment reminders, along with email marketing and lead generation to attract and retain patients.
The second phase of growth for a physical therapy business concerns the systems within the office, from scheduling daily appointments to physical therapy billing. At this point, a physical therapy business has more patients than it can handle, necessitating the recruitment and hiring of additional staff.
This is the time to eliminate negative and unproductive elements, and to consider altering the way business is conducted. Even simple changes in physical therapy marketing can lead to a significant increase in revenues. Hiring an independent accounting firm to monitor finances is also a beneficial strategy. Chhoda offers extensive information gleaned from the most successful physical therapists in his Private Practice Summit system.
Therapists love their work, but there comes a time when they look at the successful practice they've built and wonder –what next? That's why it's essential to have an exit strategy or ascension plan in place. Some physical therapists choose to form a partnership, merge with another firm, or open additional facilities. Other therapists decided to sell their practice outright. Complete retirement is an option, while others choose to remain active in the business as a CEO or consultant.
As a specialist in physical therapy business, Chhoda has assisted thousands of therapists exceed their expectations through identification of the three stages of growth. Those who are trying to create a vibrant, successful business face a multitude of choices and decisions. Utilizing Chhoda's model helps therapists prioritize and put their business in perspective, providing the impetus for a practice that thrives against all odds.
Chhoda's office can be reached by phone at 201-535-4475. For more information, visit the website at http://www.nitin360.com.
ABOUT NITIN CHHODA
Nitin Chhoda is a licensed physical therapist, a doctor of physical therapy, and a certified strength and conditioning specialist. He's the author of "Total Activation: The New 5 Step Fitness Mantra" and "Marketing for Physical Therapy Clinics." He's been featured in numerous industry magazines, major radio and broadcast media, and is the founder of Referral Ignition training systems, Private Practice Summit, the Private Practice Formula and the Private Practice Mastermind group. Chhoda speaks extensively throughout the U.S., Canada and Asia. He's the creator of the Therapy Newsletter, along with Clinical Contact, a web-based service that boosts patient arrival rates.
###