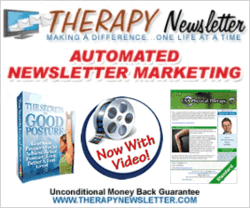 Chhoda brings a unique perspective to Therapy Newsletter, understanding both the medical aspect of the field and also, being a writer, understanding how to engage readers with content.
Denville, NJ (PRWEB) June 06, 2012
Therapy newsletter, a creation by private practice marketing expert, Nitin Chhoda, is designed and modified to connect physical therapy businesses with current and new patients in a completely improved and latest way that differs from traditional advertising or online marketing. It helps to target a specific segment of the general public to produce more efficient results from the current website information that is published online. This publication was reintroduced early this month to meet private practice owners' marketing needs.
This system was built by a private practice owner himself who understands that most practice management teams don't have much time to spend on marketing. This fully customizable, done-for-you newsletter technology guarantees to resolve their marketing problems once and for all. All a practice manager has to do is sit back and relax because the content is generated by a team of licensed physical therapists who go to work for the practice every two weeks, keeping their business in front of the minds of patients and doctors.
This content rich marketing solution is way to boost referrals from current patients. It allows physical therapy billing offices to collect email addresses from website visitors by providing them with instant access to downloadable eBooks once the site visitor enters their name and address into the practice's website. The Therapy Newsletter is automatically delivered twice a month to subscribers in the local area and the physical therapy management does not have to do a thing. The service has been well received since its launch in early March of this year.
Therapy Newsletter is the brainchild by Nitin Chhoda, a licensed physical therapist and published author. Chhoda brings a unique perspective to therapy newsletter, understanding both the medical aspect of the field and also, being a writer, understanding how to engage readers with content. His goal with therapy newsletter was to find new ways to automate marketing and referral generation using technology and in general.
Nitin Chhoda, Therapy Newsletter Owner, and states, "It is physical therapy marketing for physical therapy business growth."
Therapy Newsletter can be an excellent addition to any physical therapy practice. It's easy to use and runs on complete automation. For more information on the product or to view a full list of features, visit http://www.therapynewsletter.com.
About Therapy Newsletter
The Therapy Newsletter is a 21st century physical therapy marketing solution for today's busy private practice. Each month, Therapy Newsletter automatically delivers two content rich newsletters to a practice's patients without them having to write a single word. The result: more new patients, increased credibility with doctors and qualified referrals from newsletter readers.
###