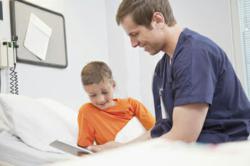 A website provides the canvas upon which practitioners paint a picture of their services and what they have to offer new patients.
Denville, NJ (PRWEB) October 06, 2012
According to Chhoda's latest blog post, many people think that providing newsletters especially in this era are already obsolete. But little did they know that it has been one of the effective ways in order to connect with people, and add personal touch to client. Having a fun and creative newsletters are very helpful in providing important information to clients, serving as an edge to service providers.
Effective newsletter doesn't have to require enormous time to create. However, it should be customizable and user-friendly to the providers. The system should provide automated publications and offer full service marketing solution either via email or mobile methods.
As for having a website, it should be noted that it is not for luxury purposes alone. It is now actually a necessity. More than 87% of the population conducts an online search for the products and services they want before making an initial contact. They question, read reviews and consult with friends and family. A website provides the canvass upon which practitioners paint a picture of their services and what they have to offer to new patients.
For younger patients, using social media is a preferred method. It offers techniques to attract possible patients through referral or word of mouth advertising, increasing the visibility of the business. Any negative reviews or content can be fixed immediately in order to prevent damage that may result in the loss of substantial revenues. Providing friendly videos is also an advantage. It can be created economically where it serves as a way to introduce patients to the practice and the services it offers.
Chhoda's office can be reached by phone at 201-535-4475. For more information, visit the website at http://www.nitin360.com.
ABOUT NITIN CHHODA
Nitin Chhoda is a licensed physical therapist, a doctor of physical therapy, and a certified strength and conditioning specialist. He's the author of "Total Activation: The New 5 Step Fitness Mantra" and "Marketing for Physical Therapy Clinics." He's been featured in numerous industry magazines, major radio and broadcast media, and is the founder of Referral Ignition training systems, Private Practice Summit, the Private Practice Formula and the Private Practice Mastermind group. Chhoda speaks extensively throughout the U.S., Canada and Asia. He's the creator of the Therapy Newsletter, along with Clinical Contact, a web-based service that boosts patient arrival rates.