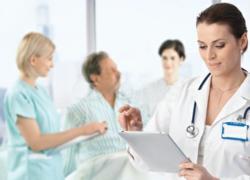 A web-based solution allows therapists and authorized personnel to access information from any location that has a high-speed Internet connection, completely eliminating the need for bulky files that require reams of paper.
Denville, NJ (PRWEB) July 19, 2012
"An EMR offers great opportunities for boosting patient numbers, delivering an enhanced level of client care and increasing revenues," said Chhoda. "It's important to understand that there are free electronic medical records for physical therapy services. Before embracing any PT documentation software, therapists should evaluate several issues to ensure it will integrate into the office work flow and existing systems."
Choosing an EMR
The most important information to ascertain about an EMR is if it was created specifically for physical therapy practices. There are numerous EMRs on the market and most are developed with physicians and hospitals in mind. Chhoda noted that there are physical therapy documentation software that offer free alternative to pricy EMRs. It's a web-based system that's free to download and developed by a physical therapist that's well aware of the features needed by therapists.
EMRs are available for Windows and the Mac iOS, and can be accessed through laptops or iPads. A web-based solution allows therapists and authorized personnel to access information from any location that has a high-speed Internet connection, completely eliminating the need for bulky files that require reams of paper. An EMR should provide therapists with the ability to consult and exchange information with other healthcare providers.
Infrastructure
The hardware needed to operate an EMR is just as important as the software. A physical therapy documentation system should be operated with the fastest Internet connection possible. That can entail changing providers, installing new software and purchasing laptops or tablets that support the latest technology.
Integration
Chhoda noted that an implementation team is essential to train and familiarize staff with the new technology and its capabilities. The team will also be responsible for integrating the EMR within the clinic's natural workflow and other patient or marketing software such as Therapy Newsletter and Clinical Contact.
Patient portals
Today's patients prefer to download forms and submit information online, and a physical therapy EMR should contain a patient portal. New and existing clients can access the interface to schedule appointments, change and submit insurance information, receive test results, and request information. Patients can use the portal to communicate with their therapist and obtain prescriptions.
Billing and reimbursements
Cash flow is a primary consideration for physical therapy practices, making it possible to purchase equipment, hire staff and expand services. Chhoda noted that practice owners must ensure that the EMR they choose provides electronic billing to facilitate a quicker turnarounds on reimbursements. Physical therapy EMRs reduce errors, paybacks and rejections for greater profitability.
Chhoda's new information for selecting an EMR for physical therapy services provides practice owners with the essential criteria needed for choosing and implementing an EMR, along with the necessary attributes to obtain the greatest value to the clinic. Beginning with a system such as the free In Touch EMR, therapists can transition easily into an electronic medical record solution for the next evolution of patient care.
Chhoda's office can be reached by phone at 201-535-4475. For more information, visit the website at http://www.emrnews.com.
ABOUT NITIN CHHODA
Nitin Chhoda PT, DPT is a licensed physical therapist, a certified strength and conditioning specialist and an entrepreneur. He is the author of "Physical Therapy Marketing For The New Economy" and "Marketing for Physical Therapy Clinics" and is a prolific speaker, writer and creator of products and systems to streamline medical billing and coding, electronic medical records, health care practice management and marketing to increase referrals. He has been featured in numerous industry magazines, major radio and broadcast media, and is the founder of Referral Ignition training systems and the annual Private Practice Summit. Chhoda speaks extensively throughout the U.S., Canada and Asia. He is also the creator of the Therapy Newsletter and Clinical Contact, both web-based services to help private practices improve communication with patients, delivery better quality of care and boost patient retention.