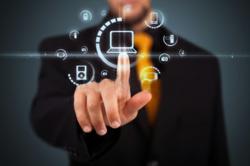 EMR and physical therapy documentation software, has become an essential aid in physical therapy management to avoid being sued.
Denville, NJ (PRWEB) September 29, 2012
According to an article by, HPSO Risk Advisor, many lawsuits brought against healthcare organizations and providers have their roots in poor communication. "As a PT, you know you're responsible for assessing a patient at every visit. But did you know that if the patient's overall health condition or functional status has worsened, you must report it to the physician or healthcare provider in charge of the patient's medical treatment? Failure to do so will lead you to possible legal action for professional negligence," stated in the HPSO Risk Advisor article.
It is not enough in today's litigious society to simply make a phone call to the physician or healthcare provider to report physical therapy documentation.
"EMR (electronic medical record) and physical therapy documentation software, has become an essential aid in physical therapy management to avoid being sued." Nitin Chhoda said. Chhoda is a physical therapist, who provides EMR information for physical therapy services online with EMR news, http://www.emrnews.com/health-care-insurance-the-patients-perspective/.
Physical therapy EMR provides the ability to automatically keep the physician, healthcare provider and patient, informed of changes in a patients care and provides proof of notification by email, and PDF records that are safely stored and easily accessible by the staff.
"In the event of a lawsuit, physical therapy software and occupational therapy software that provides fully documented records can go a long way in providing documentation of proper communication by the physical therapy office," Chhoda stated.
It is no longer a matter in today's world if physical therapy practice will be sued, but when it happens, EMR provides an edge in being able to fully document a patient's therapy history.
Chhoda's office can be reached by phone at 201-535-4475. For more information, visit the website at http://www.emrnews.com.
ABOUT NITIN CHHODA
Nitin Chhoda PT, DPT is a licensed physical therapist, a certified strength and conditioning specialist and an entrepreneur. He is the author of "Physical Therapy Marketing For The New Economy" and "Marketing for Physical Therapy Clinics" and is a prolific speaker, writer and creator of products and systems to streamline medical billing and coding, electronic medical records, health care practice management and marketing to increase referrals. He has been featured in numerous industry magazines, major radio and broadcast media, and is the founder of Referral Ignition training systems and the annual Private Practice Summit. Chhoda speaks extensively throughout the U.S., Canada and Asia. He is also the creator of the Therapy Newsletter and Clinical Contact, both web-based services to help private practices improve communication with patients, delivery better quality of care and boost patient retention.