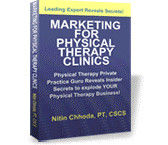 Many businesses overlook the importance of their local chamber of commerce for increased visibility and establishing credibility.
Denville, NJ (PRWEB) December 29, 2011
"Physical therapy marketing is critical for physical therapy business growth," said Chhoda. "There are a number of strategies that can be implemented easily to retain established patients and generate new business."
Chhoda provides visitors with common sense information and sage advice for individuals with a physical therapy business. He provides short-term solutions that can be utilized immediately to increase a patient base, and offers extensive long-term plans, programs and techniques for continued growth on his blog and YouTube.
Chamber of Commerce.
Many businesses overlook the importance of their local chamber of commerce for increased visibility and establishing credibility. The chamber of commerce provides an effective platform for meeting other professional and forming collaborations. Most chambers provide a free directory listing for members free of charge and offer a variety of programs, seminars and workshops that can be utilized as physical therapy marketing opportunities. It also provides physical therapists with a means to conduct programs and give presentations to acquaint other professionals in the community with the benefits of physical therapy.
Books and CDs
Writing a book or creating an audio CD is a quick path to recognition for physical therapists. Books are especially profitable in terms of media attention and it's relatively easy to self-publish with publish-on-demand (POD) printers. Physical therapists can market their publications through local bookstores, hold a book signing, or offer them online as downloadable eBooks.
An audio CD is equally easy to produce and can be made in as little as an hour. Physical therapists can begin with a powerful audio CD that can later be transcribed into a book. The CDs can be given away as promotional materials at health fairs and in the office, or at other complementary locations.
Be a Leader
Patients want to know that their physical therapy needs are being addressed by a leader in the industry, making it imperative for physical therapists to position themselves as authorities in the field. Networking with physicians, surgeons and fitness professionals for reciprocal referrals is a good place to start. Those with a physical therapy business can also partner with professionals to produce a short interview that can be distributed as a CD or posted on websites as a video or podcast.
Stay in Touch
Remaining in touch with patients is an essential part of effective physical therapy management. Patients want to feel that they're appreciated and happy patients provide word-of-mouth advertising through recommendations to friends and family. Physical therapists can easily stay in contact through newsletters delivered via email, YouTube videos, postcards and even phone calls.
Diversify
Today's patients seek convenience, superior customer service and a one-stop resource for their needs. Physical therapists must diversify to stay competitive by offering services to all types of patients, from youngsters with sports injuries and seniors with arthritis, to those suffering from auto accidents. The demand for physical therapists is greater than ever and those who ignore any segment of the population will see their patients going elsewhere.
As a successful physical therapist, Chhoda is cognizant of the many concerns and issues facing physical therapists in today's economy. Physical therapy marketing is essential and his five secrets provide instant solutions to increase revenues and attract new patients. The methods can be implemented easily and offer an effective path to promotion, attracting new patients and greater revenues.
Chhoda's office can be reached by phone at 201-535-4475. For more information, visit the website at http://www.nitin360.com.
ABOUT NITIN CHHODA
Nitin Chhoda is a licensed physical therapist, a doctor of physical therapy, and a certified strength and conditioning specialist. He's the author of "Total Activation: The New 5 Step Fitness Mantra" and "Marketing for Physical Therapy Clinics." He's been featured in numerous industry magazines, major radio and broadcast media, and is the founder of Referral Ignition training systems, Private Practice Summit, the Private Practice Formula and the Private Practice Mastermind group. Chhoda speaks extensively throughout the U.S., Canada and Asia. He's the creator of the Therapy Newsletter, along with Clinical Contact, a web-based service that boosts patient arrival rates.
###