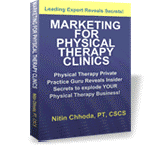 The written word lends weight and credibility to the medical professional's work and practice, resulting in more patients and referrals.
Denville, NJ (PRWEB) May 16, 2012
"There are very few times in the world when you can claim to get instant credibility," said Chhoda. "Writing a book, or at the very least a booklet, is one of them. If you're serious about growing your clinic, this is one big breakthrough you're probably overlooking."
Recognized around the world as a premier physical therapy marketing expert, Chhoda has written several books himself. He was already well known before penning his first book, but he attributes that book to cementing his credibility in a worldwide market. He noted that books also provide practice owners with a passive, ongoing income source.
Many physical therapy business owners shy away from writing a book of their own for a variety of reasons. They believe it will be too time consuming, don't think they have anything new to say, or that it will be an expensive undertaking. Chhoda said even those who don't like to write a letter can produce a book with his easy tips.

Dictate ideas and thoughts into a voice recorder. It's also helpful for practice owners to keep a pocket recorder with them to record ideas as they occur. It's folly to assume that a great idea will be remembered in its entirety at the end of the day.
Hire a transcription specialist to convert speech into written words. Turning a large number of recordings into something suitable for printing requires the assistance of an expert.
Hire a proofreader to "clean up" the grammar. Errors in grammar and speech creep in with recordings made on the fly.
Publish with a self-publishing company. There are a number of print on demand (POD) printers that provide quality publications at reasonable prices. They offer instructions on the way the book should be formatted and submitted, and they're willing to work with new writers to insure the finished product is exactly what the doctor ordered. Books can be printed as they're needed and don't require the author to maintain a physical inventory.
Chhoda's updated tips make writing a book easy for any practice owner and provide them with the means to establish themselves as authorities in their field. The written word lends weight and credibility to the medical professional's work and practice, resulting in more patients and referrals. Book sales also provide a passive means of additional income and the book can easily be leveraged into speaking engagements, workshops, seminars and webinars.
Chhoda's office can be reached by phone at 201-535-4475. For more information, visit his physical therapy website.
ABOUT NITIN CHHODA
Nitin Chhoda is a licensed physical therapist, a doctor of physical therapy, and a certified strength and conditioning specialist. He's the author of "Total Activation: The New 5 Step Fitness Mantra" and "Marketing for Physical Therapy Clinics." He's been featured in numerous industry magazines, major radio and broadcast media, and is the founder of Referral Ignition training systems, Private Practice Summit, the Private Practice Formula and the Private Practice Mastermind group. Chhoda speaks extensively throughout the U.S., Canada and Asia. He's the creator of the Therapy Newsletter, along with Clinical Contact, a web-based service that boosts patient arrival rates.
###