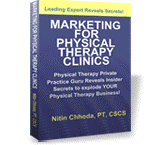 As more people become aware of the benefits of physical therapy as a tool to maintain health and enhance occupational performance, the demand for services is increasing.
Denville, NJ (PRWEB) February 24, 2012
"The benefits are obvious when a patient has an existing problem," said Chhoda. "Physical therapy can prevent a wide range of conditions before they happen and physical therapists need to demonstrate the value and cost saving potential of the preventative services they offer."
Chhoda said that such services can provide a significant monetary boost to a physical therapy billing through on-site care programs at local business. He noted that 15 percent of Fortune 500 companies have already initiated on-site care programs and the number is expected to increase. Physical therapists can earn six-digit revenues for their practice while more fully serving the community at large.
Preventative physical therapy is gaining traction across the U.S. as an essential part of regular health care. Traditionally, physical therapy has been viewed as a rehabilitation treatment after an injury. As more people become aware of the benefits of physical therapy tools to maintain health and enhance occupational performance, the demand for services is increasing.
More companies nationwide are becoming cognizant of the benefits of preventative therapy in minimizing workers' compensation claims, disability costs, and reducing lost time and productivity. Chhoda noted that such firms provide fertile ground for physical therapists to serve a wider clientele and bring in additional revenues for struggling practices in a challenging 2012 economy.
Ergonomic exercise programs are the primary offerings among preventative physical therapy documentation at businesses. They can be tailored to address the specific needs of each employee, assisting them in relieving and preventing injuries, muscle strain and stress from sources that includes poor posture and repetitive motion.
The trend in healthcare is moving more toward preventative services rather than reacting to health issues after they occur. Chhoda noted that businesses around the world are seeing the monetary benefits of offering on-site services and ergonomic programs. In an environment where healthcare attitudes are changing and a depressed economic climate, it's imperative that therapists market their preventative services to help their practices grow and thrive.
Chhoda's office can be reached by phone at 201-535-4475. For more information, visit the website at http://www.nitin360.com.
ABOUT NITIN CHHODA
Nitin Chhoda is a licensed physical therapist, a doctor of physical therapy, and a certified strength and conditioning specialist. He's the author of "Total Activation: The New 5 Step Fitness Mantra" and "Marketing for Physical Therapy Clinics." He's been featured in numerous industry magazines, major radio and broadcast media, and is the founder of Referral Ignition training systems, Private Practice Summit, the Private Practice Formula and the Private Practice Mastermind group. Chhoda speaks extensively throughout the U.S., Canada and Asia. He's the creator of the Therapy Newsletter, along with Clinical Contact, a web-based service that boosts patient arrival rates.
###