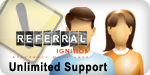 Eighty percent of Internet users watch videos and Ignition Referral features video marketing software that's compatible with PC, Mac, iPhone and Android technology.
Denville, NJ (PRWEB) February 21, 2012
"The Referral Ignition system utilizes state-of-the-art technology, with everything you need to grow your practice all in one place," said Chhoda. "It's a done-for-you-system that automates your practice, for example, your physical therapy business. If you don't have anything in place, we'll build it for you. If you already have some components, we'll improve and integrate it."
Conducting business in the current economy is rife with new challenges. The system grew out of Chhoda's need for a comprehensive program for use in his work as a consultant. He said the programs on the market lacked many essential services that private practice owners desperately needed. The result was Referral Ignition that makes use of a wide range of tools, from video marketing and social media to SEO, printed materials and text messaging.
Chhoda noted that patients are demanding a more personal touch in their interactions with health care providers and Ignition Referral enables private practice owners to use mail, phone, email, text messaging, social media, websites and newsletters to build rapport and establish them as experts in their fields. Referral Ignition is specifically designed to increase revenues through referrals from patients and other professionals.
The system begins with professional website and logo design, along with SEO and analytics to help practices rank higher in search engine results. Sites feature forms that patients can print prior to their visit for significant savings in time and effort. Practice owners can quickly create a mobile-friendly website to accommodate users of mobile devices.
Referral Ignition includes the exclusive therapy newsletter™ for customizable publications that can be delivered on the company website and via social media, along with email, print, video and fax formats. Included are consultation pages, real time feedback and dyna-tracking. Also included is Clinical Contact™ for communicating with patients via text messaging for mobile devices.
Eighty percent of Internet users watch videos and Ignition Referral features video marketing software that's compatible with PC, Mac, iPhone and Android technology. Practice owners also have access to patient stimulators that offer free eBooks and reports, providing a quick and efficient way to capture email addresses of potential clients.
The system allows owners to create and customize social media pages and design a wide range of printed materials. A variety of video and audio content is provided each month to assist in physical therapy marketing efforts. Users have access to guides, manuals, tutorials and updates.
Chhoda created the Ignition Referral system for use as a consultant to address the specific needs of his clients. The new release makes use of the latest technology to reach the greatest range of potential patients, while updating traditional methods. Specifically designed to help private practice owners meet the new challenges of doing business in 2012, the Ignition Referral system works automatically to increase patient acquisition and retention for better profitability.
Chhoda's office can be reached by phone at 201-535-4475. For more information or to download the eBook, visit the website at http://www.nitin360.com.
ABOUT NITIN CHHODA
Nitin Chhoda is a licensed physical therapist, a doctor of physical therapy, and a certified strength and conditioning specialist. He's the author of "Total Activation: The New 5 Step Fitness Mantra" and "Marketing for Physical Therapy Clinics." He's been featured in numerous industry magazines, major radio and broadcast media, and is the founder of Referral Ignition training systems, Private Practice Summit, the Private Practice Formula and the Private Practice Mastermind group. Chhoda speaks extensively throughout the U.S., Canada and Asia. He's the creator of the Therapy Newsletter, along with Clinical Contact, a web-based service that boosts patient arrival rates.
###