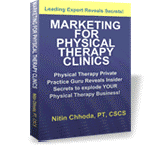 A successful private practice owner is able to overcome fear, competition, greed and scarcity. They only cause self-sabotage.
Denville, NJ (PRWEB) March 23, 2012
"Once you have patients, you want to systematically nurture each patient to become a raving fan and a referral source for your physical therapy business," said Chhoda. "The following strategies will help you retain more patients and increase referrals from existing patients. They take little time to implement, but pay multiple dividends."

Be friendly, talk to patients and address them by their first name. "The sweetest sound for a person is the sound of their own name," said Chhoda
Call past and present patients once a month, thank them for being a client and remind them that the practice is always available to serve their needs. Utilize modern, customizable systems such as physical therapy newsletter and Clinical Contact to facilitate communications via text messaging, social media and mobile marketing.
Send patients unexpected gifts through the mail to thank them for their patronage. Ideally, the gifts should be books, audio CDs or DVDs that are original and promote the practice and available services, and establishes the practice owner as an authority.
Organize a customer appreciation day and invite present and past patients to attend. Give a short, fun speech and thank them for being a client. Patients can be invited to speak about their positive experiences, thereby providing public testimonials.
Provide patients with a journal and make it mandatory that they complete it as part of their treatment plan. It's an easy means of tracking progress when clients are away from the clinic. Be sure to include gift coupons and offers for free consultations that they can use themselves or pass along to family and friends.
"These low cost and no cost strategies work well to transform your practice," said Chhoda. "Step outside of your comfort zone to grow your business. A successful private practice owner is able to overcome fear, competition, greed and scarcity. They only cause self-sabotage. Your clinical skills and intentions to help patents mean nothing without a sufficient flow of high quality, cash paying patients who can support the lifestyle and freedom you and your family desire, and it all begins with your patients and making them cheerleaders for your practice."
Chhoda's updated solutions for obtaining new referral patients relies on a combination of old-fashioned customer service and modern methods of communication that takes advantage of social media and mobile physical therapy marketing options. His five-step plan insures practice owners generate a steady stream of referral patients, even in a fluctuating economy where patients often delay treatment due to monetary concerns.
Chhoda's office can be reached by phone at 201-535-4475. For more information, visit the website at http://www.nitin360.com.
ABOUT NITIN CHHODA
Nitin Chhoda is a licensed physical therapist, a doctor of physical therapy, and a certified strength and conditioning specialist. He's the author of "Total Activation: The New 5 Step Fitness Mantra" and "Marketing for Physical Therapy Clinics." He's been featured in numerous industry magazines, major radio and broadcast media, and is the founder of Referral Ignition training systems, Private Practice Summit, the Private Practice Formula and the Private Practice Mastermind group. Chhoda speaks extensively throughout the U.S., Canada and Asia. He's the creator of the Therapy Newsletter, along with Clinical Contact, a web-based service that boosts patient arrival rates.
###