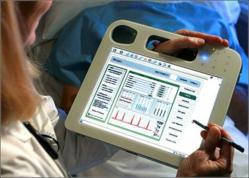 A patient portal provides the means for clients to enter their own health and insurance data for reduced waiting time in the office.
Denville, NJ (PRWEB) July 20, 2012
"Therapists need time to evaluate systems, give staff adequate time to familiarize themselves with it and already be using an EMR long before the deadline to minimize potential problems," said Chhoda. "Physical therapy documentation software facilitates all aspects of practice management and clinic owners will soon begin to see better profitability."
The number of expensive EMRs is legion and come with costly monthly fees. Chhoda noted that there's no need for therapists to spend a fortune to become compliant with the availability of the new physical therapy documentation systems. Many web-based software systems for physical therapists are now available, and are specifically developed to address the needs and requirements of physical therapy clinics of any size.
Every clinic needs a complete physical therapy documentation platform. The intuitive interface eliminates months of intensive training found with many electronic medical records, allowing staff to become comfortable with the system quicker. Forms are those with which therapists and staff are most familiar, from patient health information to billing. A patient portal provides the means for clients to enter their own health and insurance data for reduced waiting time in the office.
The ideal physical therapy documentation system should manage all departments within their practice, from scheduling and prescriptions to treatments and electronic billing for better cash flow. Therapists can communicate with other healthcare providers and obtain instant access to records from any location with an Internet connection. Such a system should errors and reimbursement rejections for improved cash flow, and integrate easily with other technologies like Therapy Newsletter and mobile marketing softwares like Clinical Contact, in addition to billing services with clearing houses.
Speed, reliability, efficiency and better patient care are all features of the perfect physical therapy documentation solution. Chhoda's advice for early adoption of an EMR system ensures therapists are in compliance well before the 2014 deadline and enables everyone within the practice to become proficient with the system. A physical therapy management system that quickly begins to pay for itself, allowing therapists to expand their practice to the next level of profitability is the need of every physical therapy practice.
Chhoda's office can be reached by phone at 201-535-4475. For more information, visit the website at http://www.emrnews.com.
ABOUT NITIN CHHODA
Nitin Chhoda PT, DPT is a licensed physical therapist, a certified strength and conditioning specialist and an entrepreneur. He is the author of "Physical Therapy Marketing For The New Economy" and "Marketing for Physical Therapy Clinics" and is a prolific speaker, writer and creator of products and systems to streamline medical billing and coding, electronic medical records, health care practice management and marketing to increase referrals. He has been featured in numerous industry magazines, major radio and broadcast media, and is the founder of Referral Ignition training systems and the annual Private Practice Summit. Chhoda speaks extensively throughout the U.S., Canada and Asia. He is also the creator of the Therapy Newsletter and Clinical Contact, both web-based services to help private practices improve communication with patients, delivery better quality of care and boost patient retention.
###