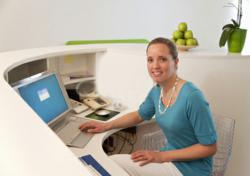 The goals of individual staff members can be powerful tools, especially if the staff knows that the EMR is meant to help them to reach their individual goals.
Denville, NJ (PRWEB) December 02, 2012
In a recent article, physical therapist and marketing expert, Nitin Chhoda, discusses how to choose the right EMR software and make the most out of it for the individual needs of each practice. Technology has come a long way in helping those in the medical fields to greatly increase productivity with EMR. However, without the right knowledge, staff can feel somewhat frustrated and even anxious when new software is implemented. For this reason, proper planning must take place, as well as staff training. In this way, the new solutions can increase productivity, rather than hinder it.
"Before you can expect your staff to get better at their jobs because of an EMR, you've got to train them and prepare them psychologically for the process. That includes bringing the staff into the planning process so they feel they have a voice and their goals will be met with the EMR." states Nitin Chhoda.
Chhoda recommends taking time to choose the appropriate physical therapy software solutions. Conducting research and brainstorming to identify goals of the practice for more efficient physical therapy management can greatly prevent choosing the wrong software. The software should help the practice achieve those goals and increase productivity, while reducing stress on staff.
As Nitin Chhoda states, "Getting staff input during this process will also be very valuable. If staff members are currently frustrated by certain aspects of their job or the way that certain systems are not integrated well enough, they can tell you what their goals will be. The goals of individual staff members can be powerful tools, especially if the staff knows that the EMR is meant to help them to reach their individual goals."
Chhoda further suggests that physical therapy practices take time to plan the implementation and transition process. This also allows for identifying problems and working with the training materials and software support to apply the appropriate solutions. Physical therapy software is made to simplify, streamline, and integrate tasks. Through following these simple measures, physical therapy practices can save time, money, and headaches.
Nitin Chhoda is a licensed physical therapist, a doctor of physical therapy, and certified strength and conditioning specialist. His office can be reached by phone at 201-535-4475. For more information, visit the website at http://www.emrnews.com.
ABOUT NITIN CHHODA
Nitin Chhoda PT, DPT is a licensed physical therapist, a certified strength and conditioning specialist and an entrepreneur. He is the author of "Physical Therapy Marketing For The New Economy" and "Marketing for Physical Therapy Clinics" and is a prolific speaker, writer and creator of products and systems to streamline medical billing and coding, electronic medical records, health care practice management and marketing to increase referrals. He has been featured in numerous industry magazines, major radio and broadcast media, and is the founder of Referral Ignition training systems and the annual Private Practice Summit. Chhoda speaks extensively throughout the U.S., Canada and Asia. He is also the creator of the Therapy Newsletter and Clinical Contact, both web-based services to help private practices improve communication with patients, delivery better quality of care and boost patient retention.