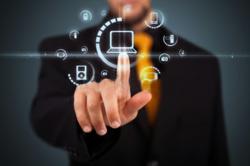 As more clinics begin to expand into corporate and home health programs, spas and senior centers, portability is a critical factor.
Denville, NJ (PRWEB) September 19, 2012
"EMRs have undergone significant changes since they first hit the market," said Chhoda. "Many therapists aren't aware of the many features available, the way they can be utilized or how to go about choosing the right EMR for their clinic, http://www.emrnews.com/health-care-practice-management-tools/. For many, the only information they have to work with is what they're told by EMR vendors."
Chhoda noted that the first rule of selecting an EMR for physical therapists is to choose a system specifically designed for a physical therapy or occupational therapy clinic. It will come equipped with forms that are familiar to clinicians and there's no need to learn a documentation format that was created for a different type of practice. The ability to create custom templates, and scan notes, test results and other pertinent patient information into the system is essential for creating a complete client record.
Cost is a major concern, especially for smaller clinics. Therapists should be aware that the federal government has set aside funding to help defray the cost of purchasing an EMR. Chhoda said the second thing practice owners should know is that expensive doesn't necessarily mean better. He said there are fully featured options available that are much less costly and don't require exorbitant monthly access fees.
Electronic billing and coding is an essential element of a physical therapy documentation system. Reimbursement claims can be automated for batch filing or submitted individually. Claims arrive at their destination almost instantly, reducing the interval between submission and when funds are deposited in the clinic's account.
Chhoda said the future of EMRs will reside in web-based systems that can be employed on the iPad and other tablets for portability. Data is maintained in the cloud for convenience and a superior level of security. As more clinics begin to expand into corporate and home health programs, spas and senior centers, portability is a critical factor.
The new information provided by Chhoda offers therapists new guidelines for selecting patient management software that will best serve their practices. Utilizing Chhoda's tips, clinicians can obtain an affordable, fully featured EMR designed for a physical therapy practice. Such systems encompass custom documents, documentation software that reduces the learning curve, and online training that can have clinics up and running in 30 minutes.
Chhoda's office can be reached by phone at 201-535-4475. For more information, visit the website at http://www.emrnews.com.
ABOUT NITIN CHHODA
Nitin Chhoda PT, DPT is a licensed physical therapist, a certified strength and conditioning specialist and an entrepreneur. He is the author of "Physical Therapy Marketing For The New Economy" and "Marketing for Physical Therapy Clinics" and is a prolific speaker, writer and creator of products and systems to streamline medical billing and coding, electronic medical records, health care practice management and marketing to increase referrals. He has been featured in numerous industry magazines, major radio and broadcast media, and is the founder of Referral Ignition training systems and the annual Private Practice Summit. Chhoda speaks extensively throughout the U.S., Canada and Asia. He is also the creator of the Therapy Newsletter and Clinical Contact, both web-based services to help private practices improve communication with patients, delivery better quality of care and boost patient retention.