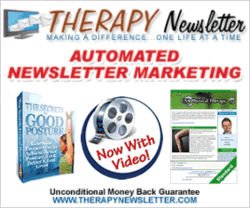 It is a blueprint for practice owners to create and manage their own SEO campaigns without having to work with any outside company.
Denville, NJ (PRWEB) May 14, 2012
"Therapy Newsletter is an excellent system that allows private practice owners to work on their practice rather than in their practice," says owner and founder, Nitin Chhoda PT, DPT.
Chhoda, having a unique perspective on the subject as he is not only a published author, but also a private practice owner himself, developed this uniquely customized out- reach system as a way for private practice owners to go outside the box from traditional marketing methods.
As per stated in Chhoda's latest blog, whether private practice owners are looking for new physical therapy marketing methods, a way to build their business or produce an appealing newsletter, the Therapy Newsletter program lets them do just that in a way that is thoroughly customizable and automated. The system features a twice monthly newsletter that is subscribed to when someone visits the clinic's website and fills out an online form. This also captures email addresses and automatically builds email lists and shows owners how to approach patients and patient referrals from the "3rd dimension" as well as reaching out to local businesses and other medical service businesses.
The Therapy Newsletter system consists of the physician trifecta (in-person, fax and mail) and the patient trifecta (text, email and phone calls). These are the three communication channels practice owners should use to build a relationship with patients and physicians.
"It is a blueprint for practice owners to create and manage their own SEO campaigns without having to work with any outside company. Most physical therapy business owners settle for exposure and hope while 'building a brand'. Brand building in a service oriented profession is a COMPLETE WASTE OF TIME because the big organizations and their highly paid 'brand consultants' sitting behind their oak desks completely overlook," says Chhoda.
With traditional marketing methods, potential patients only think of medical practices when they have a need for a particular treatment, but with the Therapy Newsletter system, when a current patient newsletter subscriber gets excited about the content of the newsletter and passes it on to friends and family, it gets others interested in the services and treatment offered by the clinic. This is an easy way to not only keep current patients engaged but gain new ones.
The Therapy Newsletter system is a high tech twist on traditional marketing methods for the 21st century. It puts cutting edge technology at the fingertips of busy private practice owners and lets them create personalized emails to individual patients or email blasts to their entire data base for special promotions or announcements. The colorful, content rich twice monthly published newsletter can be changed when needed to keep information up to date with the latest information. The newsletter can be faxed, emailed or printed out in full color to be handed out to office visitors or local businesses.
Chhoda's office can be reached by phone at 201-535-4475. For more information, visit the website at http://www.nitin360.com.
ABOUT NITIN CHHODA
Nitin Chhoda is a licensed physical therapist, a doctor of physical therapy, and a certified strength and conditioning specialist. He's the author of "Total Activation: The New 5 Step Fitness Mantra" and "Marketing for Physical Therapy Clinics." He's been featured in numerous industry magazines, major radio and broadcast media, and is the founder of Referral Ignition training systems, Private Practice Summit, the Private Practice Formula and the Private Practice Mastermind group. Chhoda speaks extensively throughout the U.S., Canada and Asia. He's the creator of the Therapy Newsletter, along with Clinical Contact, a web-based service that boosts patient arrival rates.