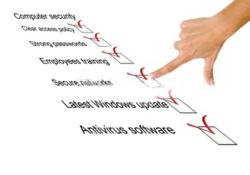 A great software package can even help you make predictions on future income so you'll know how much you have to work with on a monthly basis.
Denville, NJ (PRWEB) February 22, 2013
It is well known that establishing income goals can help physical therapy management professionals make smarter decisions and implement marketing campaigns a lot faster. Chhoda said, "Most private practice owners act as a principal therapist and primary manager which doesn't give them enough time to create and integrate income goals properly."
Today, there is a large number available of physical therapy software packages which can help PT managers automate most of their financial record keeping needs. Chhoda said, "Once you know how much money is coming in and how much is going out, you'll be in a better position to create an income goal. A great software package can even help you make predictions on future income so you'll know how much you have to work with on a monthly basis."
"This is a great website. A friend of mine sent me your link on Facebook and I spent the better part of a Saturday morning reading the articles. I feel like I got a fast education on physical therapy marketing. Keep up the good work!" – Janice Overton
According to the United States Bureau of Labor Statistics 198,600 physical therapy jobs were created in 2010. Employment of physical therapists is expected to increase 39 percent from 2010 to 2020 which is a lot faster than the average for all occupations. It's a very lucrative profession and it's only going to get better as the baby boomers continue to get older.
"It is the perfect time for physical therapists to become entrepreneurs and open their own shops" said Chhoda. PT professionals are encouraged to visit the EMR News website to learn how to market a physical therapy business and how to use electronic medical records software.
Chhoda's office can be reached by phone at 201-535-4475. For more information, visit the website at http://www.emrnews.com.
ABOUT NITIN CHHODA
Nitin Chhoda PT, DPT is a licensed physical therapist, a certified strength and conditioning specialist and an entrepreneur. He is the author of "Physical Therapy Marketing For The New Economy" and "Marketing for Physical Therapy Clinics" and is a prolific speaker, writer and creator of products and systems to streamline medical billing and coding, electronic medical records, health care practice management and marketing to increase referrals. He has been featured in numerous industry magazines, major radio and broadcast media, and is the founder of Referral Ignition training systems and the annual Private Practice Summit. Chhoda speaks extensively throughout the U.S., Canada and Asia. He is also the creator of the Therapy Newsletter and Clinical Contact, both web-based services to help private practices improve communication with patients, delivery better quality of care and boost patient retention.