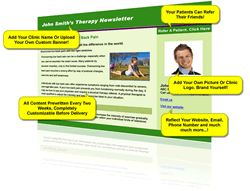 Practice owners need to depict themselves as caregivers, not just medical providers, to build a strong bond and continuing relationship with the patient.
Denville, NJ (PRWEB) May 09, 2012
"The new way to do business as a private practice is to merge and integrate online and offline revenue streams," said Chhoda. "That means combing conventional and digital means of patient interaction to reach patients of all ages and technological abilities."

Having a good eBook on the physical therapy website is an opportunity to provide timely information about topics that most concern potential patients. It establishes the practice owner as an authority on the subject and invites the reader to contact the office for more information.
An opt-in site for more information is an ideal way to collect email information for lead generation. Systems such as Therapy Newsletter can be customized to reflect individual practices and delivered by online and offline methods.
Determine what information potential patients want and deliver it to them. Many patients don't consider seeing a professional unless they're in pain or distress. Depending on the practice, pain relief or cosmetic procedures are prime topics.
Connecting with the patient and the emotional process of healing is part of the treatment process and it offers an ideal way to cultivate online communities using social media. Members can share experiences and the feedback functions as testimonials and a referral source.
Practice owners need to depict themselves as caregivers, not just medical providers, to build a strong bond and continuing relationship with the patient. This should be a goal from the moment an individual visits the practice website or walks into the physical office.
Patients want to know their caregiver has an advanced level of expertise. Providers who position themselves as experts in their communities enjoy a larger clientele. Physical therapy business owners should strive to find ways to link themselves to products with which the patient feels comfortable. "An example would be, 'Our pain relief treatment makes you feel as content as eating an Oreo cookie,'" said Chhoda.
Today's website visitors want information delivered quickly and in an entertaining manner. Video and audio clips placed on the practice website provide a convenient means of initiating reciprocal interaction.
In the new economy, it's essential to gain the interest of potential patients as quickly as possible with information they want. That initial interaction can take a variety of forms and Chhoda's updated ways to improve patient interaction blends online and offline techniques to reach individuals of all ages. Productive patient-provider interaction must begin from the time a client visits the website or calls the office for long-term relationships.
Chhoda's office can be reached by phone at 201-535-4475. For more information, visit the website at http://www.nitin360.com.
ABOUT NITIN CHHODA
Nitin Chhoda is a licensed physical therapist, a doctor of physical therapy, and a certified strength and conditioning specialist. He's the author of "Total Activation: The New 5 Step Fitness Mantra" and "Marketing for Physical Therapy Clinics." He's been featured in numerous industry magazines, major radio and broadcast media, and is the founder of Referral Ignition training systems, Private Practice Summit, the Private Practice Formula and the Private Practice Mastermind group. Chhoda speaks extensively throughout the U.S., Canada and Asia. He's the creator of the Therapy Newsletter, along with Clinical Contact, a web-based service that boosts patient arrival rates.
###