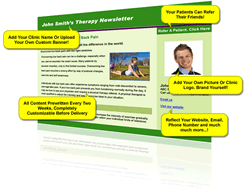 The great thing about newsletters is that it is very versatile. It can be used for online and offline marketing, fax or send by email to doctors with the push of a button.
Denville, NJ (PRWEB) March 27, 2012
"When I opened my private practice I didn't have much time or money to spend on marketing my practice. I understood that I needed to be marketing. The yellow pages cost a fortune and wasn't doing the trick. I really hated cutting that check every month to the phone companies, and coupon mailers only brought in bargain hunters it seemed." Said Nitin Chhoda, a physical therapist in Denville, NJ.
Chhoda discovered that a twice monthly physical therapy newsletter was the secret that turned the clinic's marketing around. The newsletter started getting new referrals from doctors and patients and even from people who just happened to see one of the newsletters, and decided to contact the clinic. It wasn't long before other therapist began contacting Chhoda to find out if they could use his newsletters for their practices.
"That's when I realized that others could benefit from having my 21st century physical therapy marketing system in place. I began generating content by a team of licensed physical therapists, who go to work every two weeks doing all the hard work of coming up with the newsletters content, that is written to keep you at the top of the minds of patients and doctors." Chhoda stated.
The great thing about newsletters is that it is very versatile. It can be used for online and offline marketing, fax or send by email to doctors with the push of a button. People can print it out and give to patients and local businesses. Newsletters have also been found to increase credibility in the community and build its brand.
According to Chhoda, "It is also a great way to quickly collect email addresses from patients who visit your physical therapy website, by providing them with instant downloadable eBooks that can be accessed after they enter their name. Every content rich newsletter is specifically engineered to promote internal referrals. The built-in "refer a friend" feature in each newsletter stimulates viral growth."
One of Chhoda's therapy newsletter subscribers claimed he increased his clinics practice by 33% in two weeks time. Others also praise his system for helping them increase their therapy practices.
The nice thing about the therapy newsletter system is that it is a turn-key, every two weeks it has a marketing tool that effectively puts the practice in the spotlight and is very affordable.
Chhoda's office can be reached by phone at 201-535-4475. For more information, visit his physical therapy marketing website.
ABOUT NITIN CHHODA
Nitin Chhoda is a licensed physical therapist, a doctor of physical therapy, and a certified strength and conditioning specialist. He's the author of "Total Activation: The New 5 Step Fitness Mantra" and "Marketing for Physical Therapy Clinics." He's been featured in numerous industry magazines, major radio and broadcast media, and is the founder of Referral Ignition training systems, Private Practice Summit, the Private Practice Formula and the Private Practice Mastermind group. Chhoda speaks extensively throughout the U.S., Canada and Asia. He's the creator of the Therapy Newsletter, along with Clinical Contact, a web-based service that boosts patient arrival rates.