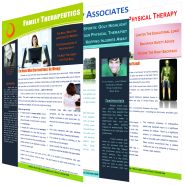 Helpful CDs, DVDs, audio files and eBooks, along with patient reminders and newsletters are all methods of touching base with clients and demonstrating they're more than a name in an appointment book.
Denville, NJ (PRWEB) May 02, 2012
"Small medical practices are losing customers and revenues through complacence, no referral reminders and "regular" delivery of services," said Chhoda. He added, "Practice owners of physical therapy business, for example, don't have to be entertainers, but they do need to have a combination of customer support, over delivery of product and an integrated referral reminder strategy." The following are the new strategies Chhoda mentioned as per his latest blog early this month.
Customer support
Chhoda noted that a smiling practice owner that's willing to converse with patients receive much higher marks from clients than those that maintain a stiff upper lip and aren't willing to exchange pleasantries. Taking the time to say "Happy to see you," "What a beautiful scarf," or "Happy birthday" costs nothing and tells the patient that their business is appreciated.
There's no shortage of health care professionals ready and willing to share a kind word and proffer a friendly greeting. Those are the doctors and dentists, chiropractors and physical therapists that patients return to eagerly. They also provide glowing referrals to friends, family and work associates. It's part of basic customer service that no practice owner can afford to ignore.
Over delivery
Over delivery of a product or service doesn't mean giving away the store, but it does require that practice owners be willing to go the extra mile for their patients. If a client is in pain, try to get them in the office as quickly as possible. Special savings, member's only programs and similar promotions give patients the perception that "their" therapist, dentist or chiropractor cares more than others and they're happy to pass that information along to their inner circle.
Helpful CDs, DVDs, audio files and eBooks, along with patient reminders and newsletters are all methods of touching base with clients and demonstrating they're more than a name in an appointment book. Chhoda suggests office systems such as Therapy Newsletter or Clinical Contact that can be customized to reflect the individual practice and delivered through multiple methods that include email, text message, voice mail and postal mail.
Integrated referrals
Referrals are essential for businesses to grow and thrive. The referral process encompasses a variety of strategies, from obtaining email addresses of all patients to offering gift coupons and free consultations. Referrals can be verbal and made in person or through social media, but they can also take the form of written testimonials that can be placed in printed materials and on the physical therapy website. Practice owners shouldn't overlook the effectiveness of small, unexpected customer appreciation gifts.
Chhoda's updated guidelines for patient interaction come at a time when many practice owners have seen a significant decline in client numbers. He noted that the three essential customer service strategies won't break the bank and take little time or effort to implement, while paying untold dividends in terms of happy clients that eagerly refer family, friends and business contacts.
Chhoda's office can be reached by phone at 201-535-4475. For more information, visit his website about physical therapy marketing.
ABOUT NITIN CHHODA
Nitin Chhoda is a licensed physical therapist, a doctor of physical therapy, and a certified strength and conditioning specialist. He's the author of "Total Activation: The New 5 Step Fitness Mantra" and "Marketing for Physical Therapy Clinics." He's been featured in numerous industry magazines, major radio and broadcast media, and is the founder of Referral Ignition training systems, Private Practice Summit, the Private Practice Formula and the Private Practice Mastermind group. Chhoda speaks extensively throughout the U.S., Canada and Asia. He's the creator of the Therapy Newsletter, along with Clinical Contact, a web-based service that boosts patient arrival rates.