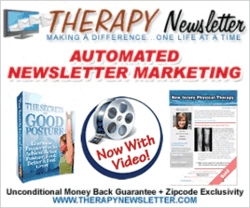 Every website should include a sign up box in the upper right hand corner. It's an easy way to obtain client contact information that can be used to offer introductory offers and information.
Denville, NJ (PRWEB) March 26, 2012
"The truth is, you have a maximum of five, maybe six seconds before your visitors form an opinion," said Chhoda. "You have to immediately provide your visitors with the right information of your physical therapy website. The good news is that it's a lot easier than you think."

Every website should have a clearly defined focus or goal, preferably for lead generation. A hodge-podge of information confuses website visitors. Staff resumes, clinic equipment and systems, and exhaustive libraries of information detract from the primary goal of convincing potential patients to make an appointment.
Provide visitors with the information they want immediately and make it clearly visible. Pain is often the number one concern for potential patients and every website should contain a section on "How to Relieve Pain."
Include a prospect stimulator on the website, such as a downloadable eBook, video or audio interview. The tool must provide visitors with information they can use immediately.
Every website should include a sign up box in the upper right hand corner. It's an easy way to obtain client contact information that can be used to offer introductory offers and information. "Systems such as physical therapy newsletter or clinical contact offer an easy and friendly way to initiate contact with a potential patient."
Instead of leading with the name of the practice, use that space to insert a confident headline that demonstrates the value of making an appointment. The headline should address the most common needs of patients, from pain relief to cosmetic procedures.
The practice's phone number should be clearly visible in the upper right side of each page within the website. Make it as easy as possible for visitors to contact the practice.
Nothing spurs potential patients to make an appointment like a free evaluation or consultation. "This does not have to be an objective evaluation," said Chhoda, "but a simple medical history followed by an explanation about the possible benefits and available treatments."
Today's Internet users love videos and will avoid reading long paragraphs of text. Utilize the technology to insert a video on the site explaining the benefits of the practice. A short video delivers twice the information in a short amount of time and it makes a lasting impression.
Chhoda noted that social media integration is essential for websites. Link the business website with Facebook and mention the company website on the social media page to drive traffic between the two sites.
When building a website, use a template that works. "Practice owners don't have to reinvent the wheel," said Chhoda. "Use a formula that works and stick with it."
A website is essential for success in today's highly competitive market and Chhoda's updated website tips are specially designed to increase responses from visitors and boost patient numbers in any economy with a minimum of effort. Busy practice owners don't have time to spend exhaustive hours with website designers and Chhoda's top 10 tips for website design are methods that can be utilized by any small practice.
Chhoda's office can be reached by phone at 201-535-4475. For more information, visit his physical therapy marketing website.
ABOUT NITIN CHHODA
Nitin Chhoda is a licensed physical therapist, a doctor of physical therapy, and a certified strength and conditioning specialist. He's the author of "Total Activation: The New 5 Step Fitness Mantra" and "Marketing for Physical Therapy Clinics." He's been featured in numerous industry magazines, major radio and broadcast media, and is the founder of Referral Ignition training systems, Private Practice Summit, the Private Practice Formula and the Private Practice Mastermind group. Chhoda speaks extensively throughout the U.S., Canada and Asia. He's the creator of the Therapy Newsletter, along with Clinical Contact, a web-based service that boosts patient arrival rates.