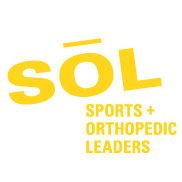 The SOL Walnut Creek office will offer dynamic athletic, orthopedic and chronic pain treatment utilizing cutting edge physical therapy techniques
Oakland, CA (Vocus/PRWEB) May 17, 2011
Sports + Orthopedic Leaders Physical Therapy (SOLPT), a leader in Bay Area physical therapy, sports training and rehabilitative care, will open a new office at 800 South Broadway, Suite 309 in downtown Walnut Creek on Tuesday, June 7. As with their Santa Cruz and Oakland locations, the Walnut Creek SOLPT office will offer hands-on, effective physical rehabilitation with friendly, skilled doctorate and master level physical therapists in a comfortable environment.
"SOLPT Walnut Creek offers athletes ground-breaking prevention care and progressive treatment from healthcare providers that know from first hand experience how an athlete's body works, providing a greater insight into how to make your body feel better as well as get you back to doing what you love," said Executive Director Tammara Moore, DPT, OCS. "We are opening the Walnut Creek clinic to serve the needs of our patients/clients in the area that want the same results we offer in Oakland."
The new Bay Area orthopedics physical therapy location is a peaceful and serene oasis in the heart of Walnut Creek. Sunlight pours in through the floor-to-ceiling windows, and a creek babbles below. The location is convenient for patients east of the Caldecott Tunnel, and has free and easy parking.
SOLPT was created by passionate orthopedic-trained physical therapists with their hearts and "SOL" in their professions and dedicated to helping active individuals reach their goals. SOLPT offers comprehensive hands-on, effective physical rehabilitation and wellness care with friendly, skilled, experienced physical therapists in a comfortable environment with private treatment areas and a functional exercise area.
"The SOL Walnut Creek office will offer dynamic athletic, orthopedic and chronic pain treatment utilizing cutting edge physical therapy techniques," added SOL Partner, Nina Patterson, MPT, OCS. "We were rated Best of the Bay 2004-6, 2008 by Competitor Magazine for Sports Injury and Best of the Bay Viewer's Choice Award 2009 by KRON4; and were an Innovative Practice Feature in PT Magazine."
The physical therapists combining forces into the new location have more than two decades of experience in rehabilitation and have helped thousands of people. Aracelly Latino-Feliz, MPT is a skilled orthopedic practitioner who incorporates her academic background and evidence-based practice when developing personalized treatment programs combined with innovative manual therapy techniques. She is also an athlete, multi-marathon finisher, and fitness instructor, so Aracelly knows what it takes to sustain an injury and bounce right back into a sport. Aracelly will treat part-time in the new Walnut Creek office, and continue to treat part-time in Oakland.
Ann-Michelle Ongerth, DPT, is passionate about health and fitness throughout the lifespan, and has a strong background in developmental and orthopedic issues. In her practice, Ann-Michelle emphasizes early intervention, manual therapy, spine, gait, lower extremity, and treatment for the overhead athlete. She is a master's swimmer, and former competitive soccer player and dancer. Ann-Michelle will treat full-time at the new location in Walnut Creek.
Initially, appointments at the new Walnut Creek office will be available Tuesday through Friday from 8am to 6pm, with varying times depending on the day. To make an appointment at the new SOLPT office located at 800 South Broadway, Suite 309 in Walnut Creek, please call (925) 977-9300.
About Sports +Orthopedic Leaders Physical Therapy
Sports + Orthopedic Leaders has clinics located in both Oakland and Walnut Creek (SOL PT) and Santa Cruz (SOL Santa Cruz), CA. SOL is the #1 choice for physical therapy and sports performance training within the East Bay and the San Francisco Bay Area. Serving the communities of Oakland, Alameda, Berkeley, San Francisco, Santa Cruz and beyond, SOL Physical Therapy's award winning clinical team has helped thousands of people reach their physical goals. Services provided include: Sports + Orthopedic Rehabilitation, Active Release Techniques®, Manual Therapy Techniques, Pilates, & Personal and Peak Performance Training.
For more information about the new SOLPT Walnut Creek clinic, or any of Sports + Orthopedic Leaders Physical Therapy's services or locations, call them at their Oakland location (510) 547-1630 or visit them on the web at http://www.solpt.com. Like SOLPT on Facebook at http://www.facebook.com/pages/SOL-Physical-Therapy/214304381361. Follow SOLPT on Twitter at @solptinc.
###