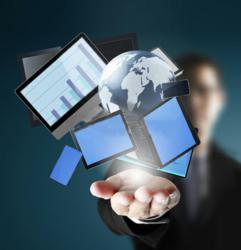 Clinic owners using this electronic medical record system can create custom documents, and the system includes an iPad app with speech to text technology, along with document importation abilities.
Denville, NJ (PRWEB) June 24, 2013
"Reliability, transparency and support are benchmarks of a physical therapy documentation system," said Chhoda. "In Touch EMR provides all that and the most highly sought features by physical therapists."
In Touch EMR was developed and designed by husband and wife team, Nitin Chhoda and Ritika Gulrajani both licensed physical therapists. They are uniquely positioned as the developer of the new technology. Both are authors and some of the foremost physical therapists and ditness professionals in the nation. As physical therapists, they have first-hand knowledge and experience in the types of features therapists need and want in an EMR system. Those abilities have been incorporated in the In Touch EMR.
The web-based documentation system requires no software installation and contains true iPad integration for portability. The first user and the first clinic are always at no charge for practices implementing In Touch EMR. During the trial period, therapists can add an unlimited number of users and clinics at no charge. Fifty appointment reminders are included, along with unlimited faxing. The trial includes Therapy Newsletter, technology and premium phone support is also available. This physical therapy EMR can also be integrated with a physical therapy billing software, http://intouchbillerpro.com/.
Cloud-based servers ensure therapists experience no slow-downs, even during peak hours of usage when youngsters arrive home from school and begin surfing the web. New infrastructure is continually being added to facilitate the demands of busy practices and proprietary systems are designed to provide the fastest speeds possible. Updates are prominently displayed and users receive an email about items that demand their attention.
An extensive support team is in place 24/7 to provide support and answer any questions therapists might have. Five-step training videos are provided to encourage rapid adoption and reduce the learning curve when implementing the system. Clinic owners using this electronic medical record system can create custom documents, and the system includes an iPad app with speech to text technology, along with document importation abilities. Patient appointment reminders and clinical timer technology are all included for increased efficiency and better patient management.
Chhoda's no-cost trial of In Touch EMR offers physical therapists with the opportunity to experience the advantages and benefits of physical therapy documentation with no risk. The system includes the most highly sought features by practice owners. Specifically developed with a working knowledge of what physical therapists need, In Touch EMR is dedicated to providing users with reliability, transparency and support.
Chhoda's office can be reached by phone at 201-535-4475. For more information, visit the website at http://www.emrnews.com.
About Nitin Chhoda
Nitin Chhoda PT, DPT is a licensed physical therapist, a certified strength and conditioning specialist and an entrepreneur. He is the author of "Physical Therapy Marketing For The New Economy" and "Marketing for Physical Therapy Clinics" and is a prolific speaker, writer and creator of products and systems to streamline medical billing and coding, electronic medical records, health care practice management and marketing to increase referrals. He has been featured in numerous industry magazines, major radio and broadcast media, and is the founder of Referral Ignition training systems and the annual Private Practice Summit. Chhoda speaks extensively throughout the U.S., Canada and Asia. He is also the creator of the Therapy Newsletter and Clinical Contact, both web-based services to help private practices improve communication with patients, delivery better quality of care and boost patient retention.