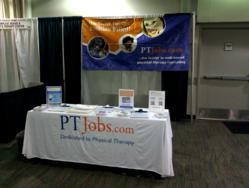 We expect the PTJobs.com database of active job seekers to grow by as much as 15%.
Ocala, FL (PRWEB) October 22, 2011
JobsTherapy, the #1 career resource for matching employers and job seekers within the Physical Therapy, Occupational Therapy, and Speech-Language Pathologist fields, today exhibited at the APTA National Student Conclave exposition in Minneapolis, MN.
More than 1,000 graduating job seekers are in attendance at the nation's largest Physical Therapy student convention. JobsTherapy is on-site at the event, actively signing-up new job seekers to join PTJobs.com, the leading Physical Therapy job board on the web. "Here at the show, we expect the PTJobs.com database of active job seekers to grow by as much as 15%," said Pete Muller, Vice President of Marketing for JobsTherapy. "There are still 2 days left of the event and we've already had countless graduating students begin posting their resumes to PTJobs.com right here on the show floor."
JobsTherapy is providing job seekers with free giveaways and incentives to register and create an account at the event. Additionally, employers are being provided with an exclusive show-special that is valid through the end of this month. Current employer members can also take advantage of this special and should contact their JobsTherapy account manager for more information.
In addition to http://www.PTJobs.com, JobsTherapy also operates 2 additional therapy job boards including http://www.JobsOT.com for Occupational Therapy and http://www.JobsSLP.com for Speech-Language Pathology.
For more information on JobsTherapy's numerous job search and candidate placement services for the Therapy Industry, please contact our customer support department at 1-866- 785-6271 or email us at sales(at)jobstherapy(dot)com.
About JobsTherapy
JobsTherapy was founded by Richard "Rick" Shutes in 2003 with its flagship site, PTJobs.com. Mr. Shutes, a Physical Therapist for more than 40 years, is the President and CEO of multi-site practices specializing in orthopedics, sports, hand care, and occupational health throughout Florida, Michigan, and Wisconsin. Having "been there" himself, Mr. Shutes knows first-hand the difficulties of finding quality local candidates. He established JobsTherapy as a tool that he could utilize himself, but now many years later – it has grown into the Therapy Industry's leading job board and provider of recruitment tools.
Like us on Facebook at http://www.facebook.com/PTJobsCom and follow us on Twitter at http://www.twitter.com/PTJobsCom.
###