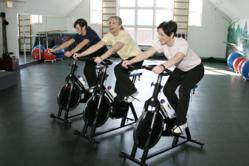 When starting a fitness program, remember that tiny steps are better than no steps at all.
Gilman, Illinois (PRWEB) May 16, 2012
Get up and get moving because May is National Physical Fitness and Sports Month! Since 1983 (the very same year that The Heartland Spa and Fitness Resort first opened its doors in Gilman, Illinois) individuals and organizations across the country have done their part to promote the tremendous benefits of a healthy, active lifestyle. And, The Heartland Spa is no exception!
"For the past 29 years, we've started each and every morning with a 2-mile walk," says Kim Onnen, The Heartland Spa's Assistant Director and Fitness Manager. "Rain or shine, we're up and walking at 7:15 am, and our guests absolutely love it," she says.
In addition to the walks, The Heartland Spa also offers a variety of exercise and fitness classes throughout the day including Yoga, Pilates, Zumba®, Body Sculpting, and much, much more. "We feature classes for all levels of fitness," says Onnen. "While many of our guests have made exercise part of their lifestyle for years, there are just as many visitors who come to us in an effort to get started," she says. "It's wonderful to be part of their transformation as they quickly realize how much fun exercise can be!"
"We also have a state-of-the-art fitness center and an indoor heated swimming pool, which guests can use at their leisure," she adds. "And, for those who prefer the great outdoors, we've got several bicycles and paddle boats, as well as designated walking paths with meditation stops around our lake."
"Although everyone should be exercising at least 3-5 times per week to maintain a healthy lifestyle, National Physical Fitness and Sports Month is a great reminder of how important it is to keep our bodies moving!"
In celebration of National Physical Fitness and Sports Month, Onnen offers some simple tips for those just getting started with a fitness routine.
Take Tiny Steps
Tiny steps are better than no steps at all. There is absolutely no need to over exert yourself or burn out on the first day! Begin with a short walk around the neighborhood, take a beginner's stretch class, or participate in an introduction to free weights. Step it up from there as you get more comfortable and start building endurance.
Less is More
An exercise program doesn't need to be extensive or elaborate, and there's no need to join an expensive gym. Take a look at your lifestyle and you may discover easy ways to incorporate physical activity into your everyday routine. Consider walking to work or taking the stairs instead of an elevator. When grocery shopping or doing errands, park as far away from the entrance as possible. If you walk a dog, pick up the pace or walk an extra 10 minutes. Little changes can make a big difference!
Back to Basics
Technology is great, but it's created a lazy society. If getting fit is the goal, think low-tech. Walk or ride a bike instead of hopping in the car, take the stairs instead of the escalator, mow the lawn with a push mower, get up from the sofa to change the television channel rather than reaching for the clicker. Calories are sure to be burned!
Find Good Role Models
If all of your friends are sedentary, then chances are you will be, too. But, if you surround yourself with those who make exercise part of their lives, then it will be easier for you to do the same. In this case, a bit of peer pressure can be a very good thing! Join a walking club or take class and you'll see that physical fitness can be contagious when you're in a group.
Set Weekly, Attainable Goals
Setting attainable and realistic goals is so important. Develop a game plan to go faster, farther or longer with your physical fitness routine. The goal can be as simple as taking a daily 15 minute walk or as serious as training for a marathon. Just decide what is attainable and realistic, and stick to it.
The Bottom Line
If exercise is at the bottom of the priority list, then you will never, ever reach your goals. You need to believe that exercise and physical fitness is important enough to make it happen. Be honest with yourself about what you really want and how committed you are to following through. If you want it, you can achieve it!
# # # # #
Located in Gilman, Illinois (just 90 miles south of Chicago), and nestled on 32-acres of picturesque pastures and woods, the Heartland Spa and Fitness Resort is the Midwest's premier health and fitness spa vacation. Once a dairy farm, this fully-equipped destination spa provides an unpretentious, welcoming and nurturing environment that motivates guests by demonstrating healthy living through a variety of fitness, nutrition and stress management programs. Praised by Oprah, and enjoyed by thousands of people throughout its 29 year history, The Heartland Spa offers a peaceful setting for guests to relax, unplug, and focus on their individual lifestyle goals. 2, 3 and 5 night packages are available for this award-winning, all-inclusive, health and fitness getaway. For more information, please visit http://www.heartlandspa.com or call 800-545-4853.