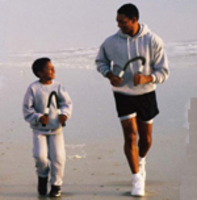 Kinesiology experts as well as people from a variety of retirement communities, fitness centers, and golf organizations have all endorsed the HeartFlex as an effective, worthwhile exercise machine
Austin, TX (PRWEB) September 30, 2008
While buying physical fitness equipment for home is a risky business, HeartFlex says it's possible to find a quality machine that will give a multifaceted workout without breaking the bank. Despite good intentions, most workout items are rapidly discarded because of severe limitations, because they are hard to use or because they give at best a limited workout. With that in mind, HeartFlex offers six considerations to ponder before buying exercise equipment.
1. Does the device work for both strengthening and conditioning? "Many pieces of workout equipment either work your muscles or give good cardio exercise," said John Corbin, inventor of the HeartFlex. "The HeartFlex is designed to provide both muscle strengthening and cardio, either at the same time or sequentially given the wide range of exercises possible on the device. Using the HeartFlex while walking or using the treadmill both increases the cardio component of the exercises."
2. Does the device improve physical fitness for people living with a variety of conditions? "The HeartFlex is an ideal part of comprehensive treatment for people who are dealing with diabetes and with breast cancer," said Corbin. Other devices, because they are too bulky or give too intense a workout can be shunned by people with serious medical conditions or who are recovering from major surgery. "What's more the HeartFlex can easily be made part of a physical therapy or occupational therapy routine by people regaining strength, flexibility or dexterity."
3. Does the device improve physical fitness in both seniors and people with disabilities? Even the best designed workout equipment is useless if it doesn't allow someone in a wheelchair to use it. "The HeartFlex can be used from any chair while the user is in a seated position," Corbin said. "Seniors and wheelchair users can get a great low-impact workout."
4. Is the device easy to use? "Even the most ingenious device will become an expensive clothes-rack if it is not clear how to use it. The HeartFlex is intuitive and comes with a DVD illustrating a wide-variety of uses."
5. Do exercises enhance experience elsewhere? "Let's face it, one of the chief benefits of exercise is that it makes our daily activities easier and more enjoyable. The HeartFlex can be used to strengthen wrist movements so that both golf and motorcycle riding are more fun," Corbin said. "Exercising with a HeartFlex can also bring relief to people suffering from Carpal Tunnel Syndrome and other repetitive stress injuries."
6. Do fitness professionals endorse and use the device to promote physical fitness? "Kinesiology experts as well as people from a variety of retirement communities, fitness centers, and golf organizations have all endorsed the HeartFlex as an effective, worthwhile exercise machine," said Corbin.
For more information on the HeartFlex or to see the workout machine improving physical fitness in action, visit http://www.heartflex.com/ .
###