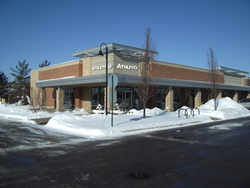 Naperville is one of Illinois's largest cities and a community that prides itself on its competitive athletic programs as well recreational activities
Naperville, IL (Vocus) April 1, 2009
AthletiCo, a Chicago-based leader in physical therapy, rehabilitation, and fitness services, opens its 51st center in Naperville. The Naperville center is located at Freedom Commons, 1739 Freedom Drive, Suite 101 in Naperville. AthletiCo Naperville's services include Physical Therapy, Orthopedic Rehabilitation, Sports Medicine, Work Conditioning, Golf Fitness, Overhead Athlete, and Orthotic Fabrication.
With the opening of the Naperville center, AthletiCo named Nathan Sels, PT, DPT, to the position of Facility Manager. Sels has been with AthletiCo for over three years practicing at AthletiCo's Oak Brook location. In 2007, he was promoted to the Assistant Facility Manager at Oak Brook while concurrently acting as the Co-Manager of AthletiCo's Golf Program. Sels looks to bring his managerial and rehabilitation experience to Naperville and the surrounding community.
"Naperville is one of Illinois's largest cities and a community that prides itself on its competitive athletic programs as well recreational activities," says Sels. "It only makes sense to bring AthletiCo, Illinois's premier physical therapy and rehabilitation provider, to this community. Our staff looks forward to establishing a growing partnership with the people of Naperville."
In addition to general orthopedic rehabilitation, Sels also specializes in golf rehabilitation. While practicing at the Oak Brook facility, which houses AthletiCo's state-of the-art Golf Performance Center, he had the opportunity to master an understanding of the biomechanics of the golf swing. He translated this knowledge of golf biomechanics into rehabilitating injuries to improve the golf swing with both efficiency and a decreased risk of injury. Sels has also provided lectures to medical providers on the physical demands on the body to perform the golf swing.
For more information about AthletiCo Naperville or to schedule a complimentary injury screening, please contact Nathan Sels at 630.799.0122.
AthletiCo Naperville
Freedom Commons
1739 Freedom Drive, Suite 101
Naperville, IL 60563
Phone: 630.799.0122
Fax: 630.799.0084
Since 1991, AthletiCo has been the proud provider of rehabilitation, fitness, and performance services to many professional teams, performing arts companies, endurance programs, golf associations, volleyball clubs, high schools, colleges, and events in Chicagoland and Central Illinois.
AthletiCo provides orthopedic rehabilitation including physical and occupational therapy, work rehabilitation, performing arts rehabilitation, women's health therapy, spine control, pediatric physical therapy, vestibular rehabilitation, and athletic training. Expanded services include performance enhancement, fitness center memberships, golf fitness, endurance, nutrition, and massage therapy.
AthletiCo accepts all indemnity, PPO, POS, and WC plans including BC/BS, Humana, Medicare, Aetna (PPO/HMO), PHCS, UHC (PPO.HMO) and many others. As a courtesy to our patients, we verify insurance coverage.
AthletiCo Toll-Free Injury Hotline 877-ATHLETICO (1-877-284-5384)
Contact:
Maxine Olhava
Public Relations Manager
Athletico
630-575-6228
http://www.athletico.com
# # #