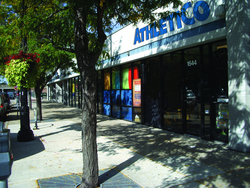 The Hyde Park and Kenwood communities will benefit from AthletiCo's dedication to quality patient care
Oak Brook, IL (Vocus) March 25, 2009
Vocus) March 25, 2009 -- AthletiCo, a Chicago-based leader in physical therapy, rehabilitation, and fitness services, opens its 50th center in Hyde Park. The Hyde Park center is located at 1644 E. 53rd Street in Chicago. AthletiCo Hyde Park's services include Physical Therapy, Orthopedic Rehabilitation, Sports Medicine, Work Rehabilitation, and Performing Arts Rehabilitation. The center also has bilingual therapists.
With the opening of the Hyde Park center, AthletiCo named Jose Segura, PT, to the position of Facility Manager. Born in Cordoba, Argentina, Segura brings a wealth of experience and diversity to the Hyde Park community. A bilingual therapist, Segura has nearly 17 years of professional experience and has been with AthletiCo since 2001, practicing at both the North Center and Andersonville locations. While at AthletiCo Andersonville, Segura gained managerial experience as the center's Assistant Facility Manager.
Segura has extensive education on manual therapy techniques, including approaches from England, Spain, Argentina, and the United States. He has worked with professional soccer players both in Europe and locally with professional soccer players from the Chicago Fire and US Soccer National Team.
In addition, Segura has vast experience working with professional dance companies including Hubbard Street Dance Chicago and Broadway in Chicago. He has toured internationally and nationally as a physical therapist for Hubbard Street and Alvin Ailey American Dance Theatre.
"The Hyde Park and Kenwood communities will benefit from AthletiCo's dedication to quality patient care," says Segura. "With the opening of this state of the art clinic, we celebrate the opening of AthletiCo's 50th center. Our staff is committed to providing high quality, personalized physical therapy and rehabilitation services, and we look forward to establishing a healthy, growing partnership with the people of Hyde Park and Kenwood."
For more information about AthletiCo Hyde Park or to schedule a complimentary injury screening, please contact Jose Segura at 773.241.6450.
AthletiCo Hyde Park
1644 E. 53rd Street
Chicago, IL 60615
Phone: 773.241.6450
Fax: 773.241.6501
Since 1991, AthletiCo has been the proud provider of rehabilitation, fitness, and performance services to many professional teams, performing arts companies, endurance programs, golf associations, volleyball clubs, high schools, colleges, and events in Chicagoland and Central Illinois.
AthletiCo provides orthopedic rehabilitation including physical and occupational therapy, work rehabilitation, performing arts rehabilitation, women's health therapy, spine control, pediatric physical therapy, vestibular rehabilitation, and athletic training/sports medicine. Expanded services include performance enhancement, fitness center memberships, golf fitness, endurance, nutrition, and massage therapy.
AthletiCo accepts all indemnity, PPO, POS, and WC plans including BC/BS, Humana, Medicare, Aetna (PPO/HMO), PHCS, UHC (PPO.HMO) and many others. As a courtesy to our patients, we verify insurance coverage.
AthletiCo Toll-Free Injury Hotline 877-ATHLETICO (1-877-284-5384)
http://www.athletico.com
CONTACT:
Maxine Olhava
Public Relations Manager
630-575-6228
###