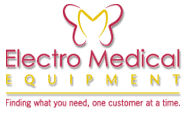 Electro-Medical has grown to be the largest independent physical therapy equipment and rehabilitation equipment supplier in the Southeast.
(PRWEB) October 26, 2011
Exciting things are happening. Electro-Medical recently adopted a new ecommerce platform that provides an enhanced shopping experience. Existing customers already familiar with the company's product lines can now utilize the Express Shop feature, which allows for 2-Click buying; optimal for busy clinics looking to make quick purchases.
Founded in 1981, Electro-Medical has displayed commitment to its customers by providing a high level of personal attention to the particular needs of each customer. Over the years, Electro-Medical has grown to be the largest independent physical therapy equipment and rehabilitation equipment supplier in the Southeast. Throughout its growth, the clinical retailer has remained dedicated to providing excellent customer service to all of its customers.
Electro-Medical's care process is simple; the customer is their highest priority. To best serve its customers, Electro-Medical is dedicated to fulfilling customer needs. By tracking the latest equipment and supply trends, the retailer is able to consistently satisfy clients with industry-accepted products. When the company distributes new products, it makes sure to get detailed feedback from existing clients about the clinical effectiveness of those products.
The physical therapy equipment supplier carries a wide variety of products including daily living aids, electrotherapy equipment, exercise equipment, hot/cold therapy products, hydrotherapy equipment, massage therapy equipment, medical diagnostics equipment, orthopedic supplies, and treatment furniture. Electro-Medical offers leading brand names including Richmar, Game Ready, Thera-Band, Biofreeze, Multi Radiance Medical, and more.
Based on customer demand, Electro-Medical has also developed a few self-branded product lines. UniBand, is the latex-free resistance band that is gaining traction in the therapy product market due to its attractive pricing and durable usability. Electro-Medical has also developed its own line of treatment furniture, Assist Tables. Boasting aesthetic professionalism, Assist Tables were designed based on clinical feedback. Customers wanted tables with greater range of motion, higher lifting capacity, and more attractive designs. Electro-Medical delivered just that.
By delivering a wide range of clinical and physical therapy equipment and supplies, Electro-Medical is committed to satisfying the specific inventory requirements of every customer. They also have plans on rolling out new customer-focused website features to further improve the customer shopping experience.
For more information on Electro-Medical, please visit http://www.electro-medical.com or contact the Electro-Medical Sales Team at 1-800-235-2952.
###